business
Business Week Index
PRODUCTION INDEX
The production index continued to rise in the week ended Aug. 22, while the
unaveraged index fell 0.5%, to 134.8, from 135.5. After seasonal adjustment,
rail-freight traffic was up 0.6%, with sharp increases in automotive traffic
and loadings of crushed stone, sand, and gravel. Output of steel and oil were
also up. Production of autos, trucks, coal, and lumber were down. Electric
power also fell with decreases in the available amounts of energy in the New
England and Pacific Northwest areas.
BW production index copyright 1998 Bloomberg L.P.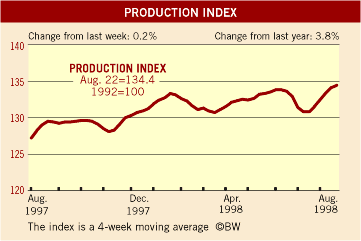 PRODUCTION INDICATORS
                                                 LATEST     WEEK      YEARLY
                                                  WEEK      AGO       % CHG
      STEEL (8/29) thous. of net tons            2,040     2,127#      -5.1
      AUTOS (8/29) units                         126,544   119,127r#   12.8
      TRUCKS (8/29) units                        138,391   128,631r#   13.4
      ELECTRIC POWER (8/29)
       millions of kilowatt-hrs.                 80,335    76,283#     12.9
      CRUDE-OIL REFINING (8/29)
       thous. of bbl./day                        15,688    15,577#     1.8
      COAL (8/22) thous. of net tons             21,973#   21,840      4.0
      LUMBER (8/22) millions of ft.              493.4#    489.7       2.1
      RAIL FREIGHT (8/22) billions of ton-miles  27.3#     26.9        3.4
      
      Sources: American Iron & Steel Institute, Ward's Automotive Reports, Edison 
      Electric Institute, American Petroleum Institute, Energy Dept., WWPA*, SFPA**, 
      Association of American Railroads
      
      LEADING INDICATORS
                                                 LATEST     WEEK      YEARLY
                                                 WEEK       AGO%       CHG
      STOCK PRICES (8/28) S&P 500               1027.40     1081.18    14.2
      CORPORATE BOND YIELD, Aaa (8/28)          6.52%       6.50%     -10.1
      MONEY SUPPLY, M2 (8/17) billions          $4,233.3    $4,230.7r  7.1
      INITIAL CLAIMS, UNEMPLOYMENT (8/21) thous.  297       303r       -8.3
      MORTGAGE APPLICATIONS, PURCHASE (8/28)     269.4      243.1      30.9
      MORTGAGE APPLICATIONS, REFINANCE (8/28)   1,331.5     1,211.9    379.3
      
      Sources: Standard & Poor's, Moody's, Federal Reserve, Labor Dept., Mortgage 
      Bankers Assn. (Index: March 16, 1990=100)
      
      PRICES
                                              LATEST       WEEK       YEARLY
                                              WEEK         AGO        % CHG
      GOLD (9/2) $/troy oz.                   280.150     283.150    -12.9
      STEEL SCRAP (9/1)#1 heavy, $/ton        120.50      120.50     -17.7
      COPPER (8/28)  cents/lb.                77.4        77.0       -24.3
      ALUMINUM (8/28)  cents/lb.              64.5        63.8       -18.9
      COTTON (8/29) strict low middling
       1-1/16 in.,  cents/lb.                 72.81       73.19       3.2
      OIL (9/1) $/bbl.                        13.67       13.81       -29.4
      CRB FOODSTUFFS (9/1) 1967=100           213.55      220.77      -10.8
      CRB RAW INDUSTRIALS (9/1) 1967=100      283.33      287.47      -29.1
      
      Sources: London Wednesday final setting, Chicago market, Metals Week, Memphis 
      market, NYMEX, Commodity Research Bureau
      
      INTEREST RATES
                                              LATEST    WEEK      YEAR
                                              WEEK      AGO       AGO
      FEDERAL FUNDS (9/1)                     5.75%     5.50%     6.23%
      COMMERCIAL PAPER (9/1) 3-month          5.44      5.49      5.52
      CERTIFICATES OF DEPOSIT (9/2) 3-month   5.52      5.57      5.60
      FIXED MORTGAGE (8/28) 30-year           7.02      7.02      7.72
      ADJUSTABLE MORTGAGE (8/28) one-year     5.72      5.75      5.73
      PRIME (9/2)                             8.50      8.50      8.50
      
      FOREIGN EXCHANGE
                                              LATEST     WEEK       YEAR
                                              WEEK       AGO        AGO
      JAPANESE YEN (9/2)                     137.70     144.53    121.16
      GERMAN MARK (9/2)                      1.75       1.81      1.82
      BRITISH POUND (9/2)                    1.67       1.64      1.59
      FRENCH FRANC (9/2)                     5.88       6.06      6.11
      ITALIAN LIRA (9/2)                     1732.0     1782.5    1773.5
      CANADIAN DOLLAR (9/2)                  1.54       1.56      1.38
      MEXICAN PESO (9/2)***                  9.965      9.810     7.766
      TRADE-WEIGHTED DOLLAR INDEX (9/2)      113.4      116.9     107.1
      
      Sources: American Iron & Steel Institute, Ward's Automotive Reports, Edison 
      Electric Institute, American Petroleum Institute, Energy Dept., WWPA1, SFPA2, 
      Association of American Railroads
      
      Sources: Major New York banks. Currencies expressed in units per U.S. dollar, 
      except for British pound in dollars. Trade-weighted dollar via J.P. Morgan.
      
      #Raw data in the production indicators are seasonally adjusted in computing 
      the BW index (chart); other components (estimated and not listed) include 
      machinery and defense equipment. *=Western Wood Products Assn.   **=Southern 
      Forest Products Assn.    ***=Free market value   NA=Not available   r=revised  
       NM=Not meaningful