Why Central Europe Loves The Euro
The new currency will streamline trade and banking
Karen Lowry Miller
Prague's Komercni Banka is revamping its software and training staff so that it can sell products based on the European Union's common currency, the euro. In Gyor, Hungary, home textiles maker Graboplast, which exports 22% of its $67 million annual sales to the EU, plans to set its prices in the new unit. "We have a great price advantage, and [the euro] will make it easier for our marketing guys to make that clear," says Graboplast Chief Financial Officer Tibor Bori.
Central Europe is in the grip of euro fever. Policymakers, bankers, and executives are racing to prepare themselves for the euro's introduction next Jan. 1, when 11 EU nations will form the European Monetary Union. Even though countries such as Poland and the Czech Republic are not part of EMU, the euro will have a major impact on them. "EMU provides a very important anchor for Central Europe," says Bart Turtelboom, senior economist with Deutsche Bank Securities in London.
NEW HEDGE. The euro's launch will force some quick changes in Central Europe. For starters, two-thirds of the region's $110 billion in annual trade is with the EU. So, potentially, companies can save a bundle on currency hedging if they invoice in euros. Polish TV maker Thomson Polkolor will be doing just that on $176 million in annual exports to the EU. "It should streamline our [foreign exchange] operations," says Chief Financial Officer Stanley W. Urban.
The region's central banks also face some tough decisions on the baskets against which they peg currencies. Hungary, for instance, uses the German mark and the dollar. Central bankers are playing their cards close to their vests for fear of roiling markets. Almost certainly, though, they'll beef up the euro content. After all, it makes little sense for Poland to peg its zloty to a five-currency basket that is 45% dollars when it mostly trades with the EU.
Governments could use such technical decisions to reaffirm their eagerness to join the EU. When they're admitted, they will have to join an exchange rate mechanism and keep their currencies within a fixed band against the euro. Even before then, a heftier euro weighting in their currency baskets would hitch Central Europe's economic fate much more tightly to the EU. Such a gesture might appeal to Poland, Hungary, Czech Republic, Estonia, and Slovenia now that they realize they will not be able to join the EU in 2002 as they once hoped.
Whatever Central European countries decide, their financial markets are likely to become more volatile. As EMU interest rates settle around 4.5% on 10-year government bonds, money managers could flock eastward for far higher rewards such as the 22% yield on equivalent Polish bonds. A big cash influx could easily force rates down faster, and currencies much higher, than the local authorities want. And with fewer European currencies to play with, speculators may be tempted to gamble in the Czech koruna, which floats freely.
TOUGH NUT. Countries that stick to the rigorous discipline the EMU imposes on aspiring members stand to gain the most. Several are now hitting some targets, such as budget deficits of 3% or less of gross domestic product (chart) and debt no more than 60% of GDP.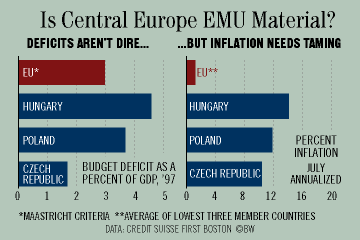 But inflation remains a tough nut to crack. The European Central Bank will require countries joining the EMU to have inflation rates no more than 1.5 percentage points above the average of those three EU members with the lowest levels over the previous two years. Poland, for example, will have to slash its 12% rate to below 3% by about 2005. "We take the ECB [goal] as a strategic target to plan our policy," says Ryszard Kokoszczynski, deputy governor of the National Bank of Poland.
Central European countries won't adopt the euro as their own currency for quite some time. Full membership in the EMU is probably still a good decade away. But already, the euro is having a profound impact on the region--pushing its countries toward the rigor that helped former economic laggards such as Spain and Italy.
Before it's here, it's on the Bloomberg Terminal.
LEARN MORE