U.S.: Thanks To Consumers, The Economy May Just Keep On Humming
Their spending isn't likely to slow as long as the job market stays firm
By
When the going gets tough, will the tough keep shopping? That question is a crucial one for the economy in the second half. Recent news has roiled the financial markets. The Clinton debacle, Russia, embassy bombings, and military retaliation have made the world look a little riskier nowadays. Will consumers respond to uncertainty by spending less and saving more?
A decline--or sharply smaller gains--in consumer spending could be a problem for economic growth, particularly in the fourth quarter. For now, consumers are starting to express some worry about the economy's future. But the latest data don't show them cutting back on spending by much.
Certainly, the early third-quarter data look anemic, but that mostly reflects the General Motors Corp. strike. With the strike now settled, the August data on industrial production, factory employment, and orders should bounce back. Outside of autos, the numbers look healthier. Factory activity and retail sales are firm. The drop in jobless claims suggests a strong gain in August payrolls. And housing, the Viagra sector of this economy, just keeps rising.
At the same time, the Asian financial crisis remains a drag on growth. Real exports are falling, hit by weak demand along the Pacific Rim and the strong dollar. A wider trade deficit likely is subtracting from gross domestic product growth this quarter, and may well curb growth again in the fourth. That's why real GDP in this half probably isn't growing as quickly as it did in the first, when the annualized growth rate was 3.5%.
HOW FAR BEHIND will depend on consumers whose purchases account for two-thirds of real GDP. That's why trends in consumer fundamentals bear watching.
Household confidence, for instance, has fallen for two months in a row, although it remains historically high. The Conference Board's consumer confidence index dropped to 133.1 in August, from 137.2 in July. The index covering the economy's current condition dipped slightly, but the reading on the future fell sharply, from 113.4 to 107.5 (chart). The Board said, "turmoil in the financial markets, both in the U.S. and abroad," was partly responsible for the downturn.
The Board also noted that consumers seem to be less sure about the job market in August as well as in coming months. However, that worry may prove to be unfounded. The strikers at GM were back at work in August, so the month's payrolls are likely to post a large increase when the employment report is released on Sept. 4. And looking ahead, demand for labor appears quite robust. A survey by the temporary help agency Manpower Inc. shows that hiring plans for the fourth quarter are the strongest since 1977.
Rosy job prospects will help consumers overcome any Wall Street jitters and keep spending. Retail sales were not strong in July, but the 0.4% drop was an upshot of vehicle shortages caused by the GM strike and the end of dealer incentives. Purchases of motor vehicles plunged 3% in July. Outside of autos, sales rose a solid 0.5%. And after adjusting for inflation, nonauto retail volume began this quarter at a hefty 3.9% annual rate above its second-quarter average.
In addition, consumers continue to buy homes at a record pace. Existing home sales rose 4% in July, to a record annual rate of 4.93 million. New-home sales have also been in record territory, and the demand has kept builders busy. Housing starts increased 5.7% in July, to an annual rate of 1.72 million, an 11-year peak.
Moreover, the National Association of Home Builders says that its members were very optimistic in August. The trade group's Housing Market Index--a compilation of current and expected sales and buyer traffic--fell to just 71% from a record 72% in July (chart). With the flight-to-quality rally in the bond market pulling down mortgage rates, housing should remain vibrant in the second half.
IN COMING MONTHS, consumers will also be expected to help manufacturers overcome the drag from exports and, to a lesser extent, capital spending. Industrial production declined 0.6% in July, but again, that mostly reflected the GM strike. Excluding motor vehicles, factory output was up 0.1% in July, and the early readings for August production show a good rebound.
Even so, industrial activity has slowed significantly this year. That's mainly because Asia's problems are hurting exports and also widening the trade deficit. In June, exports were down for the third consecutive month, dropping 0.5%. For once, though, imports declined at a greater rate, 2%, so the trade deficit that month actually narrowed for the first time since January. The gap slipped to $14.1 billion, from $15.5 billion in May.
The narrowing is not the start of a trade turnaround, however. Not only is Asia cutting into foreign sales, but so is the continued rise in the dollar, which makes U.S. goods more expensive globally. One troubling trend is the severe drop in price-adjusted exports. Real merchandise exports in June fell below their year-ago level for the first time in five years. In the meantime, real goods imports were up 10%--a result of the second quarter's robust spending in the U.S.
SLACK FOREIGN DEMAND also shows up in orders taken by durable-goods manufacturers. New orders jumped 2.4% in July, buoyed by a 12% surge in bookings for electronic equipment. But the level of July orders was well below the peak hit in November, and the trend in demand is heading south (chart). The Commerce Dept. does not divide the data between foreign and domestic orders, but other numbers, such as from the National Association of Purchasing Management, show the softness has come from foreign demand.
In the future, however, some of the weakness may be due to U.S. businesses scaling back their capital spending, another powerhouse for the economy in recent years. Capital spending is very unlikely to decline in coming quarters, but its growth rate will slow. Already, a banking survey by the Federal Reserve shows that loans to large corporations were down in the second quarter. One explanation given was decreased spending on plant and equipment.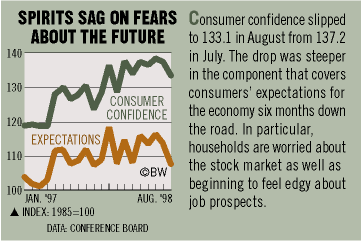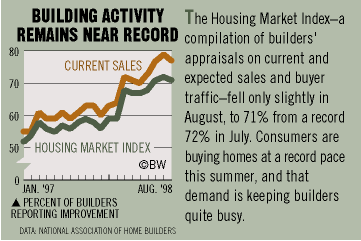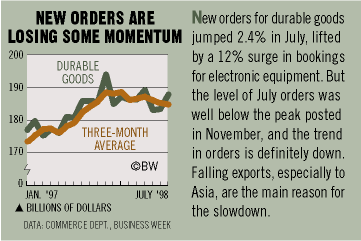 Businesses have many reasons to rethink their capital budgets: Weaker foreign demand is erasing the need to add capacity. Slower profit growth is cutting internally generated funds, while falling equity prices have removed a cheap source of financing.
A slowdown in business spending, however, will bring the economy's fortunes back to depending on consumers. For now, individual investors are watching Wall Street with a wary eye. But those concerns are only a small component of consumer fundamentals. A much bigger factor is the labor markets. And as long as job growth does not falter, the consumer outlook is not in jeopardy.