Mesa Verde: A Lost City's Resurrection?
Sandra Dallas
From her office on a sage-dotted mesa in southwest Colorado, Mesa Verde National Park curator Donna J. Read says proudly: "We have 2 million objects here, the largest collection in the Southwest, one of the largest in the parks system." Then, she tugs open a storage drawer.
Ancient painted pottery bowls are piled on top of one another on the bare metal. Other drawers open only with a crowbar. Duct tape crisscrosses the ceiling of the ugly metal warehouse, which was built in 1959, in connection with a park expansion, and was supposed to have been torn down. Weeds grow through cracks in the concrete floor. Steel wool fills openings around the door. Read points to an open storage shelf where deer mice last spring ate labels identifying charred wood excavated from a ruin. Without provenance, the artifacts have no archaeological value. Besides, the mice can carry deadly hantavirus, so for health reasons the wood was destroyed.
Lack of money is threatening the 52,000-acre park, a site many Americans say is our answer to the pyramids. From 750 A.D. to 1300, the spot was home to the ancestors of today's Pueblo Indians. Up to 5,000 lived there at one time. Last year, the World Monument Fund called Mesa Verde one of America's 100 most endangered historic sites, and in June, the National Trust for Historic Preservation put the park on its endangered places list.
Even more threatened than artifacts are backcountry archeological sites. "Base operating funds allow us to maintain 35 sites. There are another 4,000. We haven't visited some of them in 40 or 50 years," says Linda A. Towle, chief of research and resource management. Just one ranger patrols the backcountry, and she's too busy looking for vandals and pot hunters to check on ruins. Towle says Mesa Verde needs at least $10 million just to catalog, computerize, and map what's here.
The park needs far more than that, so Mesa Verde has come up with a public-private partnership scheme to raise money, an idea that could become a model for the rest of the nation's national parks.
DUSTY EXHIBITS. America's heritage molders throughout Mesa Verde. At the 1930s museum, built by the Civilian Conservation Corps, objects in glass cases are covered with dust. Bugs eat away at dioramas that haven't been cleaned in 50 years. Mesa Verde needs a visitor center and more parking. The park is badly understaffed. William R. Morris, a park administrator, scrimped on training and office supplies this year to restore a popular campground slide show that was cut in 1997.
Since Mesa Verde is precluded by law from soliciting donations, a group of Colorado business people last year formed the Mesa Verde Foundation. They're exploring the idea of a $30 million cultural and visitor center. "It's almost a motherhood-and-apple-pie issue," says foundation President John W. Low, a Denver lawyer. The visitor center will have displays, Indian arts and crafts demonstrations, and an IMAX theater. IMAX's time seems to have come. Brenda S. Schaefer, from Phoenix, rolls her eyes at the idea, but her son John, 10, exclaims: "All right!"
Because of its endangered status, Mesa Verde is attracting foundation money. In 1995, the Getty Foundation gave Mesa Verde $50,000 to stabilize plaster on Mug House, a ruin in a rock alcove. The American Express Foundation and the Bay Foundation are giving $48,000 for additional plaster preservation. And the Historical Society of Colorado is funneling $5,000 from a state gaming tax to clean those dioramas.
The National Park Service has doubled Mesa Verde's entrance fee, to $10 per car. Mesa Verde, which draws 650,000 visitors a year, keeps 80% of the fee revenue, or $2.6 million over three years, which goes mostly to roads and trails. It now sells $1.75 tickets to Cliff Palace and Balcony House, two major cliff dwellings. That's partly to control crowds, but the fees will raise about $521,000 this year, which will pay to keep the sites open from April to November instead of just during summer months. Some Americans say they ought to get in free, but "I tell them it's cheaper than a Big Mac," says D.A. Akin, a ranger at Cliff Palace.
MODERN PERILS. Mesa Verde is much more satisfying than a Big Mac, too. "It's part of who we are as a nation," says Larry T. Wiese, superintendent. "Mesa Verde's sites and stories are so important to the world community. They cross all international boundaries." On a tour of Cliff Palace, visitors are awed by the 700-year-old stone structures tucked into a rock alcove. The Indians who built them, then left after less than 100 years, naturally kept no written records. In 1888, two cowboys stumbled onto the ruins. Archaeologists and pot hunters looted the sites until Congress made Mesa Verde a national park in 1906. Now, Cliff Palace is in greater danger from its 1,000 visitors a day. A round kiva, or underground room, has become elliptical from the pressure of visitors' footsteps on the walls around it.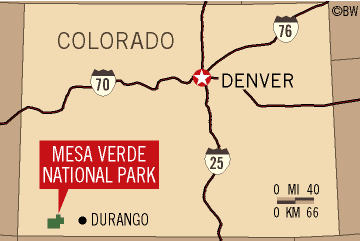 As the Cliff Palace tour ends, visitors ask questions, although not the rangers' two favorites: Why did the Indians build so far from the highway, and how did they get their mail? This time, one asks: "Did the cliff dwellers give the sites their names?" Ranger Akin's eyes twinkle as he mentions Kodak House. It got its name because an early archaeologist stored his Kodak there--a camera invented hundreds of years after the last dweller moved on. As everyone laughs, you can't help but think that IMAX, which would teach visitors about the early Indians, isn't such a bad idea after all.
Before it's here, it's on the Bloomberg Terminal.
LEARN MORE