Japanese Real Estate: Welcome Back, Foreigners
They're gobbling up prime Japanese properties
Robert Neff
During the heady days of Japan's commercial real estate bubble, Bank of America fattened its bottom line by selling the home used by the president of its Japanese subsidiary. Northwest Airlines captured a piece of the bonanza by selling the rights to develop the site of its staff compound in central Tokyo. In the late 1980s, when inflated real estate prices gave Tokyo's Imperial Palace an imputed value equal to that of California, foreigners were unloading Japanese properties.
Now, after a 10-year hiatus, they're becoming big buyers. Since 1991, Tokyo real estate values have plunged roughly 85%. This collapse is pushing up yields on both commercial and residential properties as rents fall more slowly than purchase prices, while recession has braked Japan's building boom. With prices bottoming out, vacancy rates declining, and the yen slumping, the pickings look just too good to ignore.
Call it bottom-fishing or pillaging a failing economy, but such investments by foreigners may be helping Japan dig out of its asset collapse. Although authoritative figures don't exist, BUSINESS WEEK estimates that non-Japanese institutions have scooped up at least $2.5 billion in Tokyo real estate since early last year. Industry insiders say this is helping to firm up prices, key to getting Japan's economy back on track.
"AMAZING." Most recently, a partnership of U.S. hedge funds organized by Tokyo-based Y.K. Da Vinci One shelled out around $70 million in mid-August for eight office buildings. During the next few months the group plans to invest $350 million or so in Tokyo properties, says Da Vinci One President Osamu Kaneko. "I just figured this was an amazing opportunity," he adds.
What's grabbing him and other investors are the huge spreads between interest rates and returns. While borrowing costs outstrip rental yields in places like New York and Hong Kong, yen borrowed at 3.5% or less and invested in Tokyo real estate can yield up to 7%. "That kind of situation is very rare anywhere in the world," says Francis T.F. Yuen, deputy chairman of Hong Kong's Pacific Century Group.
It was Pacific Century's surprise $599 million purchase of a site near Tokyo station in March, 1997, that opened global investors' eyes. That's largely because the company is controlled by Richard Li, one of Hong Kong's savviest tycoons. Until then, foreigners had seen Japan as a closed real estate market. "But Li showed there is no restriction whatsoever for foreigners to invest here, unlike elsewhere in Asia," says Yasuo Kawakami, representative director in Tokyo of international property consultants CB Richard Ellis.
Some experts think Li overpaid for the site, where he plans to build a 31-story office building. But other non-Japanese institutions think they're finding bargains. Morgan Stanley Dean Witter last March bought 1,200 residential condominiums from developer Daikyo Inc. for a price estimated by Japanese media at $83 million to $97 million. That was roughly 40% of the fully occupied units' book value, informed observers say. A month later, Goldman, Sachs (Japan) Corp. put together a non-Japanese group to buy insurer Yamato Seimei's Tokyo landmark building for a reported $414 million.
Traditionally, Japanese companies and individuals have been reluctant to sell real estate, viewing it as something akin to the family jewels. Now, the old mentality is starting to free up, along with the tax laws and regulations that discouraged deals. "Banks have to improve their balance sheets and are finally willing to sell good properties," says Yoshihiro Hashimoto, real estate analyst at Merrill Lynch Japan Inc.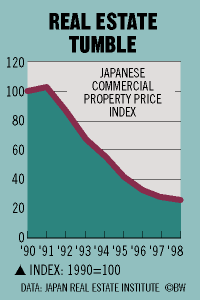 SMALL FRY. On the buyers' side, the action isn't limited to the heavy hitters of international finance. For instance, Japan Access Management, founded last year by 42-year-old Osamu Yamazaki, has been plugging individual investors from overseas into a residential property unit trust totaling $5 million. Yamazaki, a former equities manager for a major U.S. insurer, claims yields of 8% to 9% for the condominiums he has bought for his clients in Sapporo and central Tokyo.
In Japan's financial scrap heap, the global smart money seems to be saying that gems can be found if you dig hard enough.