It's Junk, But Not Garbage
Despite the market rout, an '80s-style crash is unlikely
Toddi Gutner
It almost seemed like Michael R. Milken was riding high again. In the first six months of 1998, some $117 billion in high-yield bonds were issued, nearly surpassing the recordbreaking $120 billion for all of 1997. After eight years of seeking respect, high-yield was on the verge of shedding its junk aura.
Then came July. Stocks sagged, the economy slowed, and investors became anxious about unsettled conditions in Asia and Russia. When fear begins to overtake greed, the junk market is often the first to react. By the end of the month, the new-issue junk-bond market had stopped dead in its tracks. An estimated 20 deals have been scrapped or postponed. So far, only $2.5 billion has come to market in August, the weakest month for new issues since September, 1996, according to Securities Data Co.
There's no reason to expect a junk-bond market crash like the one in the late '80s. Much has changed since then, when junk funded billions of dollars of highly leveraged transactions, many of which ran aground. Today's market features less leverage, more liquidity, and a more diverse group of investors.
FAT YIELDS. But the current carnage will likely be serious. With demand falling off, yield spreads on junk have risen dramatically, from 367 basis points over 10-year Treasuries to 434 since July 15, according to the Merrill Lynch Master II High Yield Index. What's more, default rates are rising--2.80% as of July 31, compared with 1.89% for the same period last year--although they are still below the 20-year average of 3%. "We're likely to see some further widening of spreads and modest increases in defaults," says Merrill Lynch & Co. global high-yield strategist Martin S. Fridson.
For investors in this falling interest-rate and low Treasury-yield environment, fat yields have been appealing. Indeed, junk bond funds have sported an annual return of 11.86% for the three years ended July 31, against 8.03% for the Lehman Brothers Aggregate Bond Index, according to Morningstar Inc. But higher yields mean higher risk. Despite bigger payouts, investors redeemed $1.25 billion from high-yield mutual funds in the first three weeks in August, about the same amount that flowed into funds in July, according to AMG Data Services. "The last few years, investors who wanted bonds bought the highest-yielding ones. But that time has passed," says Fridson. "Flight to safety doesn't mean investing in high-yield bonds."
Flight to safety has specifically meant investing in Treasuries and large-cap stocks as investors flee riskier areas such as emerging market equity and debt and small-cap stocks.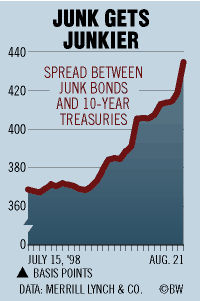 While junk bonds across the board have been hit, cable and broadcasting companies are holding up well. The most battered are cyclicals highly sensitive to recessions, such as chemicals, steel, energy, and paper, and telecom companies with no cash flow or earnings, says Douglas Forsyth, portfolio manager for Nicholas-Applegate Capital Management's High-Yield Bond fund. With the junk and initial public offering markets drying up, and banks unwilling to lend to companies with minimal assets, telecoms may need a deep-pocketed company to bail them out, says Fridson.
To be sure, most junk bond managers are relatively sanguine, despite the recent market rout. "After Labor Day, people will come back to see how prices have dropped, and there will be plenty of money to buy these securities and bid them back up," says Harry Resis, co-manager for Kemper High Yield Fund. Veteran fund manager Ernest E. Monrad of Northeast Investors High-Yield Bond fund says, "We like to buy when there is blood in the streets, and right now there is a little nosebleed." But it could be that the blood is just starting to flow.
Before it's here, it's on the Bloomberg Terminal.
LEARN MORE