Is A Deal Lurking For Longs Drug?
Despite the market's slump, shares of Longs Drug Stores (LDG) have been on a tear since mid-August, zooming from 26 to 34 on Aug. 25. One explanation: On Aug. 19, Longs reported better-than-expected second-quarter earnings--and the stock rose three points that day. But it kept climbing.
"There's more to it than earnings," says Mike Kicera, President of MRK Capital Management in Rochester, N.Y., which has accumulated Longs shares. A West Coast chain of 349 drugstores, Longs "is ripe for a takeover in an industry that's rapidly consolidating." He adds, "Kicera has tagged several takeover targets before they were bought out, including American Stores."
Two rivals--CVS and Rite Aid--are interested in Longs, whose real estate is undervalued on its books, Kicera says. Based on recent drug deals, he figures Longs, with no debt, is worth well over $40 a share in a buyout.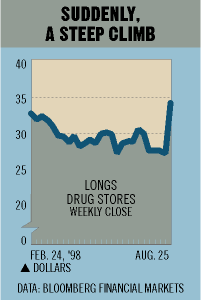 He speculates that the recent agreement by Albertson's to acquire American Stores may prompt CVS and Rite Aid to step up any plans to go after Longs. CVS has 4,056 stores in 24 states; Rite Aid 3,900 stores in 32 states. American Stores and Longs formed a joint venture last year, merging their pharmacy benefit-management units. This 50-50 project, called Rx America, serves about 400 health-maintenance organizations and insurance providers.
Kicera thinks that ultimately, Albertson's will want to widen the reach of American Stores' 800 Sav-on and Osco Drug outlets by acquiring Longs. Longs Vice-President and Treasurer Clay Selland declined comment on the takeover rumors but reiterated that the company is committed to staying independent.
Before it's here, it's on the Bloomberg Terminal.
LEARN MORE