Inhale Gets Set For A Big Rush
by
Not many emerging biotechs have attracted as much attention in the past few years as Inhale Therapeutic Systems (INHL). Pfizer, Eli Lilly, and Baxter International have all invested millions in Inhale to develop a pulmonary device that would allow delivery of drugs through inhalation--including insulin for diabetic patients. The stock, which hit 37 1/4 last October, has dipped to 26 lately. But Inhale fans remain steadfast bulls.
Heiko Thieme, of American Heritage Fund, thinks Inhale will be a blockbuster in a few years. Notes Peter Ginsburg of Minneapolis investment firm Piper Jaffray: "Inhale's outstanding--but low-risk--opportunity in pulmonary delivery is undervalued by the market."
Inhale already turns out dry-powder formulations of medicines that, through a proprietary inhaler, are delivered into the lung and bloodstream. Sales of drugs that can be switched to the pulmonary route could top $10 billion, estimates Ginsburg. Since 1995, Pfizer has shelled out $10 million to fund Inhale's insulin product.
Pfizer, with a 5% stake in Inhale--bought at 25% above the market price--has conducted two clinical trials for inhaled insulin, with a third to follow in November. By the first half of 2000, Inhale could file for Food & Drug Administration approval.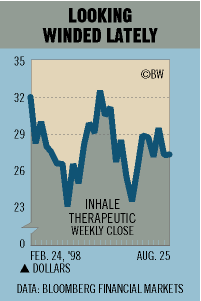 In March, 1996, Baxter invested $20 million in Inhale to co-develop compounds for Inhale's pulmonary system; Baxter owns an 8% stake in Inhale. Lilly paid Inhale $10 million for an inhaled osteoporosis agent and another undisclosed compound.
In early September, Pfizer will report "further encouraging data" on inhaled insulin--at a meeting in Barcelona of the European Association for the Study of Diabetes, says Ginsburg. Last June, investigators presented "positive data" from clinical trials at an American Diabetes Assn. convention. "Our studies showed that inhaled insulin can achieve the same excellent glucose control traditionally obtained from a regimen of several daily insulin injections," said Dr. Jay Skyler of the University of Miami.
Before it's here, it's on the Bloomberg Terminal.
LEARN MORE