Homes Are Selling Like A House Afire
It's a record year for developers. But will they overbuild?
Stephanie Anderson Forest
If you have any doubt that Americans have a near-insatiable urge to buy a new home these days, just ask any developer. One rainy, 90-degree-plus night in July, dozens of potential buyers camped outside a Centex Homes sales office to get first crack at a 20-lot expansion of a 300-home subdivision in suburban Dallas. At a new Naples (Fla.) development, the same company is asking--and getting--up to $320,000 for homes that won't be available before July, 1999. And by mid-August, Monterey Homes Corp. had already received 1,400 inquiries for a scant 17 new homes in Rocklin, Calif., that won't even go up for sale until mid-September. "It doesn't get any better than this," says Centex Chief Financial Officer William D. Albers. "This is one of those times when all the stars are in alignment."
BULL RUN. And it doesn't take an astrologer to see all factors pointing to the best annual performance for home construction since the go-go '80s. Credit a strong economy, low mortgage rates, rising incomes, and strong consumer confidence for pushing housing starts to their briskest pace in 11 years. In July, says the Commerce Dept., starts were up 5.7% to a seasonally adjusted annual rate of 1.7 million units.
Sales of existing homes are setting records, too. On Aug. 25, the National Association of Realtors reported a 4% jump in July sales of previously owned single-family homes, to an annualized 4.93 million units, the highest level ever. Not surprisingly, the frantic pace of home buying has pumped up prices more than 6% in a year when inflation can't crack 2%. In 52 years in the business, "I've never seen a market this strong," says Donald F. Horning, president of Brookfield (Wis.)-based ShoreWest Realtors Inc., where pre-July unit sales were up 23% over last year.
Just how long can this bonanza last? "The end is not in sight," says David Lereah, chief economist at the Mortgage Bankers Assn., who sees six to 12 months more of bounce ahead--as long as interest rates stay at current low levels. That scenario may be too rosy. Mark M. Zandi, chief economist at housing consulting firm Regional Financial Associates Inc., says that in most of the country--except for pockets in Texas, Florida, and California--pent-up demand has been nearly met. "We're working on spent-up demand," says Zandi, defining that as second- and third-time homeowners going bigger with gains made in the stock market or from selling their own homes.
Some economists even see the potential for a slowdown by yearend as layoffs at U.S. factories rise due to Asian woes. "Even if interest rates are low, if a worker loses his job, that person is not going to be buying a house," says Paul L. Kasriel, chief U.S. economist at Northern Trust Corp. in Chicago.
TAPPED OUT? But so far, Asia has only helped builders. Raw material prices on such items as lumber and roofing supplies have cut construction costs significantly. Still, home developers aren't necessarily enjoying significantly wider margins: Many--especially smaller and midsize builders--report serious labor shortages, particularly for such skilled workers as carpenters, framers, and masons. They also are having to pay top dollar for those workers they can hire. At Charleston (S.C.) builder Barkley/Fraser Co., labor costs have risen about 10% over the past two years. One solution: out-of-state labor pools. But now even those markets are "tapped out," says Barkley/Fraser co-owner Chris Fraser.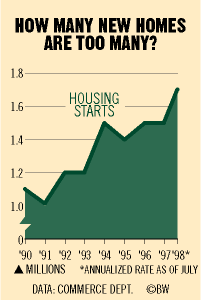 Yet whether or not their costs are rising, developers--and other sellers--are boosting prices. In Atlanta, Colony Homes prices are up as much as 7% in the past year. Nationwide, Centex has jacked up prices by at least 10% in the past six months--in some instances to discourage demand, says Albers. And these steep hikes could do just that--but maybe too soon and by too much.
That could be a problem for those still building new homes. RFA's Zandi says there could be 300,000 excess homes added by yearend if the boom continues. Time to quit? Maybe. But if history is a guide, developers will have trouble quelling those speculative juices.