First Hawaiian's Mainland Toehold
Two forces are pummeling First Hawaiian (FHWN), a bank holding company: its exposure in Asia and its acquisition of Bank of the West. First Hawaiian stock tumbled from 41 in late April to 29 on Aug. 25. Not to worry, says Deborah Beylus, banking maven at J.W. Genesis Capital Markets, a San Francisco investment firm. "First Hawaiian is the most undervalued and misunderstood bank stock around." Beylus' bullish stance isn't shared by most analysts. Others have either a hold or neutral rating on the stock.
Beylus thinks the Asian worries are overblown: First Hawaiian's loans in the region amount to $109 million--or 1.3% of total assets.
First Hawaiian's acquisition of Bank of the West, says Beylus, creates a "diversified powerhouse, with assets of $14 billion." Bank of the West, California's fifth-largest, has assets of $5.8 billion and deposits of $4.7 billion. It's profitable, with a clean balance sheet, she adds.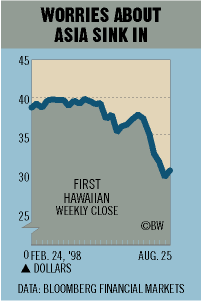 The merger will cut costs by $23 million in 1999 and $41 million in 2000--5% and 9%, respectively, of the combined companies' 1998 expenses, says Beylus. "These savings should add $26 million after tax to earnings, or 45 cents, per share," she says. And it gives First Hawaiian an entry into Northern California and a base for expanding mainland operations. Beylus expects the combined company to earn $3.25 a share in 2000, up from an estimated $2.75 in 1999. She thinks the stock, currently trading at a price-earnings ratio of 10.6, deserves a p-e of 15, or a price of 50.
Before it's here, it's on the Bloomberg Terminal.
LEARN MORE