business
Commentary: A Human Reason Not To Raise Rates
Aaron Bernstein
When central bankers from around the world gather at the Federal Reserve Board confab in Jackson Hole, Wyo., starting on Aug. 27, Russia's collapsing economy is likely to be the hottest topic at the dinner tables. But that won't stop talk about the subject closest to these bankers' hearts: monetary policy. Key to that debate are today's low jobless stats and the fat wage gains they have provided. Indeed, at the July Fed meeting, hawks called again for a rate boost to cool off the steady ascent of real wages.
In this context, the official subject of the three-day meeting, income inequality, offers a timely opportunity for Fed bankers to review their approach to monetary policy. In recent decades, the Fed has focused on controlling inflation, paying far less attention to its other legally mandated job--curbing unemployment. Liberals often slammed the central bank for this neglect. But even they didn't blame the Fed for 25 years of a widening gap between rich and poor--through recessions and boom times alike.
Now, some liberal economists are arguing that Fed monetary policy may have indeed aggravated the disparity after all. The reason: signs that the gap between rich and poor is finally narrowing, just as the Fed has stopped itself--uncharacteristically--from pushing interest rates up as the jobless rate lingered below 5% for the first time since the 1960s. As one consequence, wages for the bottom 20% of workers have risen by a real 3.6% a year since June 1996, while wages of those in the top 10% rose 2.3%. Liberal economists such as James K. Galbraith of the University of Texas say the Fed should be pleased: It is only at unemployment levels like today's that demand for less skilled workers is great enough to lift up their wages. It shows that "there's plenty the Fed can do about inequality, namely, to keep unemployment and interest rates low," says Galbraith, the author of a new book called Created Unequal: The Crisis in American Pay.
The clash between liberals and Fed bankers will resurface if prices start to creep up again. After all, the Fed has not refrained from hitting the brakes out of concern about inequality. For now, Chairman Alan Greenspan believes that inflation is being held at bay by long-term changes in the economy, such as technological advances. His opinion has outweighed Fed hawks who, in contrast, believe that inflation is on hold simply because of temporary factors such as low commodity prices and Asia's turmoil.
The question bankers should debate in the Tetons is whether the economy can tolerate a jump in prices from what are probably unsustainably low levels--particularly for such items as oil. Hawks will step up demands for rate hikes if that happens. But Greenspan may want to wait and see if inflation simply rebounds to a still-acceptable level.
POWERFUL REASON. This is where inequality enters the policy equation. If liberal economists are correct about the need to keep unemployment below 5% to help the bottom half of the workforce, then the Fed would have a powerful new reason to hold back--even with some price inflation--on rates. The long-term benefit of reversing 25 years of growing inequality might be worth it.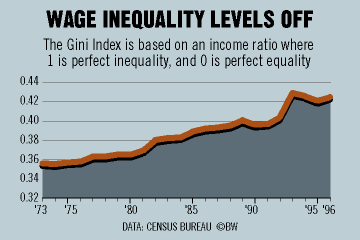 The trick would be to make sure that the bond market doesn't panic while the Fed waits. This may be easier to pull off now that Greenspan has managed interest rates so well. Just a few years ago, the hawks argued that if unemployment fell below the so-called natural rate of 5%, the Fed would lose its ability to avert an inflation spiral. As this hasn't happened, the fear of a trigger point "is more or less gone at the Fed," says Alan S. Blinder, a former Fed vice-chairman and Princeton University economist.
While the fate of Russia is a sizzling issue, there's not much Fed bankers can do about it. But there may be something they can do about inequality. And that's worth talking about in the mountains of Wyoming.
Before it's here, it's on the Bloomberg Terminal.
LEARN MORE