business
U.S.: Don't Be Fooled By July's Weakness
The data aren't that soft. But the market's woes could spell trouble
By
If you're trying to get a handle on the economy's performance in the second half, here are some dos and don'ts: First of all, don't worry about the July weakness in employment, industrial production, car sales, and the like. The data are either distorted by the auto strike and other anomalies, or they reflect Asia-related weakness confined to manufacturing. Don't forget that the broader service sector is booming (chart).
Do, however, keep an eye on the stock market. That's because, as was true in the first half, the second-half outlook will be determined by domestic demand, not foreign demand. A swooning market has the potential to shatter consumer and business confidence and constrict domestic spending, thus eroding the key prop under the economy in recent years.
The Dow Jones industrial average has dropped 9% from its July 17 peak. Investors are increasingly nervous, especially that more Asian fallout on profits could be headed this way, given the deteriorating state of Japan's economy and a possible devaluation of the Chinese currency, both of which would only worsen the Asian situation.
Profit problems also reflect rising labor costs at home. Productivity fell last quarter while compensation accelerated, resulting in another steep rise in unit labor costs, which are now increasing much faster than prices. Even if Asia stabilizes in the second half, this drain on profits will not go away, and neither will the stock market's cloud over the economy.
DESPITE THE DOWNBEAT-LOOKING DATA of late, the economy began the third quarter on extremely solid footing. Although the July employment report appeared weak, closer scrutiny reveals little change in the underlying trends of job gains, hours worked, and wage growth evident in the first half. That's important, because strong growth in jobs and wages has been an even more important driving force behind consumer demand than supportive financial conditions.
On the surface, nonfarm payrolls rose just 66,000 in July, the fewest in more than two years. But manufacturing payrolls plunged by 176,000 workers, mainly because of the General Motors Corp. strike, while service payrolls rose by 229,000, showing no sign of slowing down, as strong domestic spending fuels the need for more workers at restaurants, banks, and consulting firms. Construction jobs rose by a solid 18,000. The jobless rate remained at a tight 4.5%, although it would have dipped to 4.4%, excluding the strike.
The Labor Dept. said that jobs in the auto industry plunged by 111,000. Labor identified 23,000 more workers in manufacturing industries, such as fabricated metals, rubber, and plastics, who were laid off because of the auto shutdowns, along with 7,000 temporary-help workers, who are categorized as service-sector employees. The Labor Dept. also said that there were other secondary losses that it could not quantify.
As a result, strike-adjusted payrolls increased by at least 207,000 in July--and probably more--so look for a huge rebound in August payrolls, with job growth in the neighborhood of 350,000. Moreover, excluding manufacturing, jobs in the other 85% of nonfarm payrolls increased by 242,000, almost no slowdown from the first-half average of 247,000 per month.
MANUFACTURING PAYROLLS also continue to feel the chill from Asia. Even without the strike, factory jobs would have declined somewhere near the losses of 29,000 in June and 22,000 in May. Part of that weakness reflected the need for manufacturers to adjust their inventories in the face of weaker foreign demand. Earlier this year, the rate of growth in factory stockpiles began to exceed that of shipments, suggesting that factory output may face continued downward pressure in coming months (chart).
However, strong domestic demand is keeping inventories in wholesaling and retailing in good shape. Shipments at wholesalers rose 0.3% in June, while inventories edged up just 0.1%. And despite weak July car sales, consumer spending began the third quarter on solid ground, as indicated by the upbeat July reports from chain stores. That suggests store merchandise isn't gathering dust on retail shelves.
The steep drop-off in car sales was expected. Total light vehicle sales fell to an annual rate of 14 million last month. Actually that's not bad, considering that May and June buying was boosted by generous dealer incentives, which lifted sales to 16.2 million and 16.5 million, respectively. Prior to May, sales averaged 15.2 million, and through July, sales are averaging 15.4 million, ahead of 1997's 15 million pace.
AUTO DEALERS AND OTHER RETAILERS don't have to fret about consumer spending until the job market turns sharply south and brings down income growth. For investors, though, the prospect of even higher wages has contributed to this summer's profit worries. That's because, so far in 1998, those fatter pay raises aren't being covered by productivity gains.
Output per hour worked at nonfarm businesses fell at an annual rate of 0.2% in the second quarter, after surging 3.5% in the first quarter. The productivity report also contained benchmark revisions for the past three years which showed that productivity in the 1990s is growing no faster than it did in the 1980s.
Over the past year, productivity is up 1.9%, which is a good clip, but hourly compensation has accelerated to a rapid 4.3% pace (chart). As a result, unit labor costs--the key determinant for prices and profits--are up by 2.4% from a year ago, significantly faster than prices are increasing. In fact, the ratio of nonfarm prices to unit labor costs last quarter was the lowest in five years, highlighting the growing squeeze on corporate profit margins.
This vise is likely to tighten further since heavy labor demand means that wages will continue to accelerate. For example, despite the absence of GM's hefty paychecks, overall hourly wages still rose 4.2% in July from a year ago. That's up from a 3.6% pace in July, 1997. Service pay increased 4.9% last month.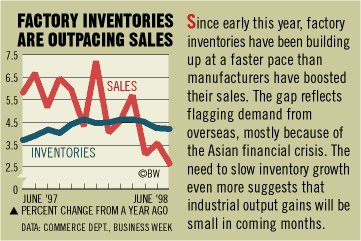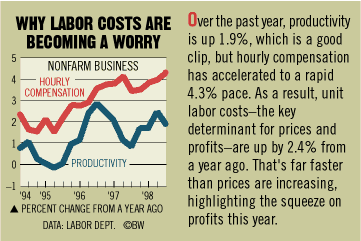 Productivity growth, however, seems unlikely to catch up to those pay gains. Even with July's small job gain, the total number of hours worked in the economy began this quarter at an annual rate of 1.8% above their second-quarter average, and August hours are sure to surge as payrolls rebound from the strike. That implies that the third quarter's productivity gain will be small.
The tug on profits from Asia and rising labor costs have triggered the stock market's recent jitters. How much more market turmoil households and businesses can take before canceling that Range Rover order or postponing that big expansion project is still anybody's guess. But if stock prices continue to sink, business activity could end up a good deal weaker this winter.
Before it's here, it's on the Bloomberg Terminal.
LEARN MORE