There's No Wishing The Asian Crisis Away
Quick fixes won't work, and Tokyo is barely on the case. Now, the yuan is teetering
by
The yen plunges to an eight-year low as Japan faces its worst recession since World War II. Hong Kong stocks dive as speculators attack its currency and rumors spread that China will have to devalue the yuan. Russian bonds reel on fears of loan defaults. Even in North America, Mexico and Canada see the value of their currencies plunge.
Time to worry about a global panic? Not yet. Only under the most pessimistic scenarios, economists say, would the Asian depression and spreading commodity deflation push the healthy economies of the U.S. or Western Europe into recession. And, while suffering, both Canada and Mexico are in better financial shape to withstand external shocks than they were five years ago.
But each new Asian devaluation makes the crisis more global. Each new setback to an International Monetary Fund rescue plan fans fears that no emerging market, no matter how well-managed, is safe for investors.
The effects on the U.S. economy, once theoretical, are becoming tangible. U.S. exporters are hitting a wall not only in Asia but also at their own borders. Asia's turmoil has led to sharp drops in prices for oil, metals, timber, and other commodities. That is hurting the Canadian dollar and the Mexican peso. Canada and Mexico are the two biggest markets for U.S. exports, absorbing $223 billion in goods in 1997, but now their buying power is down sharply.
Unless Japan takes dramatic action soon, far worse is in store. Despite stinging setbacks at the polls, Japanese leaders still have not come to grips with their crisis. A U.S.-Japan intervention in June only produced a pause in the yen's slide. A collapse of the yen to 200--a worst-case scenario but by no means implausible--would hit currencies worldwide and further depress prices. It would also make Japanese goods far cheaper and lead to steep sales declines for many American manufacturers, sending the U.S. into recession in 1999.
CHINA WATCH. On Aug. 11, Tokyo intervened to prop up the wobbly yen, which then stood at 146 to the dollar. But Westerners should have no illusions that this is the beginning of the end of Asia's decline. It is all but certain that the crisis will menace the global economy for the next three to five years. Even if Japan gets serious soon about tackling its banks' $600 billion in bad debt, the cleanup will be protracted and hugely expensive. "As long as the financial difficulties continue, you will see the yen get weaker and weaker," says Masaru Yoshitomi, vice-chairman of the Research Institute of the Long-Term Credit Bank of Japan. Most private economists think the economy will contract by 1.3% this year and by 0.5% in 1999.
Japan's complacency is crushing its neighbors. Last fall, they were counting on a boost from the world's second-biggest economy. Instead, the region is bracing for more devaluations.
All eyes are on China. Even though Beijing keeps insisting it won't devalue, analysts wonder how long it can hold out. China would be hurt by a cheaper yuan, since many of its exports rely on imported components and machinery. But in Shanghai's black market, the yuan now sells for around 8.8 to the dollar--6% below the official rate.
The downward pressure is building from both internal problems and trade woes. China's shipments to the U.S. are up 18% this year, but overall exports are up only 7% due to slumping Asia sales. China has lost ground to South Korea in steel, coal, and chemicals. Beijing University economist Song Guoqing sees a 90% chance China will devalue within two years. "In the long run, I'm quite sure there will be a large devaluation, maybe 20% to 30%," he says. If so, expect a Hong Kong devaluation to follow.
Such talk is making stomachs turn in markets around the world. Another round of devaluations could capsize currencies in Latin America and Eastern Europe. Declines in commodity prices will sting as well. Oil is already off 30% since last August, to around $13, and an Asian depression could push prices down to $9 by the end of next year, estimates Standard & Poor's DRI. Such price collapses are hurting economies around the world. In Russia, rumors of a possible ruble devaluation on Aug. 11 sent stocks plummeting.
The picture is just as ugly north of the U.S. The global commodity glut has hurt Canada's mining and timber industries, about 10% of the economy, and falling investment from Hong Kong has halted a property boom. Canadian stocks are down 17% in the past year, and the dollar is off 8.5%, to 65.7 U.S. cents.
DISTANT RIPPLES. It may be America's turn next. Early this year, only exporters such as Boeing Co. and Hewlett-Packard Co. felt the pinch. Now, companies with minimal exposure to Asia, such as Hershey Foods, blame lower expected profit growth on weakness in that region. "In the next couple of quarters, you are going to see obvious signs of slowing down," predicts Merrill Lynch & Co. global strategist Jeff Bahrenburg.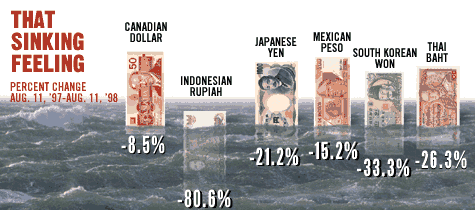 What could change the scenario? A new approach by Tokyo would help immensely. Optimists believe Japan still can reverse the direction of the yen by unveiling a convincing plan to close weak banks, clean up bad debts, and inject massive liquidity into the economy. The yen would then rebound, and Asian currencies would rise as well. That would bring foreign investors back to the region, allow Asian banks to lower interest rates, and restart growth.
As Asia's ordeal drags on, however, fewer analysts believe it can be resolved so easily. Still ahead are the tortuous tasks of overhauling the region's banking systems and securing public support for taxpayer-funded bailouts.
"These are serious and deep-seated problems," says Gregory B. Fager, Asia director for Washington's Institute of International Finance. "Many investors seem to have lost sight of that." Bulls would like to believe the roller-coaster ride is nearing its finish. Instead, they could be in for many more nasty jolts.
Before it's here, it's on the Bloomberg Terminal.
LEARN MORE