Novell Has To Hit The Gas
It needs some hot products to outmaneuver Microsoft
Amy Cortese
It has been a busy year for Eric Schmidt. Since taking the helm at Novell Inc. in April, 1997, the former top technologist at Sun Microsystems Inc. has logged 250,000 miles, meeting customers and promoting the ailing software maker. He recruited an all-star board and set up a $50 million fund to invest in software startups. He slashed expenses, refocused Novell on networking, and pushed new products out the door--including NetWare 5, a major update of the company's core network operating system.
An enviable record, especially given the mess Novell was in when Schmidt arrived. But the hardest part lies ahead. He has pushed Novell into the black by trimming costs, but revenues have been nearly flat, thanks to inroads by Microsoft Corp.'s Windows NT, which has built-in networking features. On Aug. 20, Novell is expected to announce earnings for the quarter ended July 31 of about $25 million--its fourth consecutive quarterly profit and a nice comeback from the $121 million loss last July. But analysts expect nearly flat revenue, at about $275 million (chart, page 34). For the fiscal year ending Oct. 31, sales are expected to reach $1.09 billion, up 8% from 1997 but 21% below 1996 levels.
NET PLAY. The lack of revenue growth is reflected in Novell's stock. While other networking companies--especially those associated with the Internet--soar, Novell's stock has tumbled. At around 10, it's 26% below its 52-week high. The market still hasn't seen Schmidt deliver on a goal he set when he joined Novell: to turn the company into "a pure-play Internet and intranet company."
Schmidt is counting on NetWare 5, which will begin shipping in September, to carry Novell into the Internet Age. The company's most important upgrade in four years, NetWare 5 is built entirely on Internet standards, allowing customers to mesh their corporate networks with the public Net.
With those features and favorable reviews, it's likely that many Novell customers will buy the upgrade. And Novell may get a boost from Microsoft: Its competing NT 5.0 has been beset by delays and appears unlikely to ship until late 1999--years behind schedule. That has prompted some consultants to warn customers against buying NT 5.0 until 2001. "Novell has a great window of opportunity," says Mary McCaffrey, an analyst with BT Alex. Brown Inc.
INERTIA. Novell has already proved a hard competitor to unseat. Though sales of Windows NT passed NetWare for the first time last year, Microsoft has found it hard to cut into Novell's existing base of 80 million customers. "Novell is like an old pair of shoes," says Jon Oltsik, a Forrester Research Inc. analyst. "You think you're going to get rid of them, but they're comfortable and it's too much trouble to buy a new pair."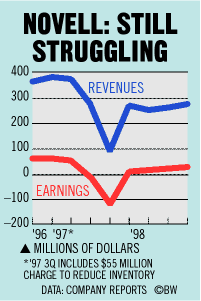 Such inertia can keep Novell coasting for years. But to grow, it must attract new business. Schmidt hopes NetWare 5 will do the trick by generating sales of other new products, such as BorderManager, which manages connections between a company network and the Internet, and Z.E.N.works, a network-management package. "We were playing catch-up," says Schmidt. "Now you can judge us as an Internet player."
Wall Street is not yet convinced: Novell's $3.5 billion market cap pales next to that of hot Net players such as Yahoo!, which, with just $67 million in sales last year, has a giddy $8 billion valuation. Schmidt has many more miles to go before he proves that Novell is really an Internet highflier.
Before it's here, it's on the Bloomberg Terminal.
LEARN MORE