Germany: Kohl's Election Threat? The Jobless
by
The make-or-break issue for Chancellor Helmut Kohl in the Sept. 27 elections is jobs. That's clear from the political jostling attending each new set of labor-market data. Kohl's government sees a turnaround. The opposition doesn't. And the data support both sides.
The July seasonally adjusted data, which are the only way to judge the month-to-month trend, showed a 37,000 drop in jobless workers, the seventh decline in a row, and the jobless rate dipped to 10.9%, a 20-month low. Since December's peak, unemployment in the west has fallen from 9.9% to 9.3%, and in the east, from 19.7% to 17.8%.
But while stronger labor markets in the west reflect a genuine economic recovery, lower joblessness in the east is largely artificial, reflecting the government's temporary job-creation and retraining programs. Spending on these has risen since March and will total some 40 billion marks this year. Such jobs jumped 18% in July, after rising 25% in June and 22% in May, with the greatest impact in the east. Economists estimate such jobs account for over half of 1998's 293,000 drop in total joblessness.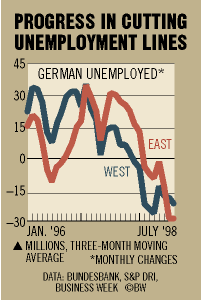 Still, the job-market gains in the west are not just preelection pump-priming. Overall German growth is expected at just under 3% this year, up from 2.3% in 1997. Second-quarter gross domestic product will slow, reflecting the April rise in the value-added tax, but buying ahead of the VAT hike had boosted first-quarter GDP growth to 3.9%. Also, Asian weakness is hitting manufacturing. June industrial output and orders were surprisingly weak.
However, the fundamental supports under Germany's domestic economy are strengthening, especially given a break from the austere fiscal policy that led up to the euro. Business investment is picking up, fueled by strong profits and cheap financing. Consumer spending is buoyed by rising real incomes amid higher wage pacts and low inflation. The labor-market recovery is a big reason for the brighter outlook, but for those voters still out of work, it may be too slow come election time.
Before it's here, it's on the Bloomberg Terminal.
LEARN MORE