A Rich Stew In The Melting Pot
by
At the start of the 20th century, immigrant labor and innovation helped turn the U.S. into a powerful manufacturing nation. Today, foreign-born engineers jam the corridors of Silicon Valley, abetting the nation's information-technology boom. And as the 21st century dawns, yet another wave of immigrants will once again help transform the economy.
During the next decade, barring a change in government policy, nearly a million immigrants are expected to arrive in the U.S. every year. Most, both legal and illegal, will continue to come from Latin America and Southeast Asia, but every foreign land will be represented. So will every level of skill, education, and talent: New arrivals will make up hotel beds, start their own shops, and pursue pathbreaking medical research.
CREATIVE TYPES. And they'll play a critical role in providing the workers needed to keep the economy healthy. As baby boomers age and domestic birthrates stagnate, only foreign-born workers will keep the labor pool growing. By 2006, in fact, immigrants will account for half of all new U.S. workers; over the next 30 years, their share will rise to 60%.
Economic dynamism, in other words, will depend on a continuing stream of foreign-born workers. A limited labor supply "is going to affect growth," says Carol D'Amico, senior research fellow at the Hudson Institute; "if you fast-forward 10 years, it will be a real issue." Even at current levels of immigration, according to the Labor Dept., the number of people available to work will increase by a mere 0.8% per year between 1996 and 2006--half the rate of the previous decade. Without immigrants, according to a new study headed by the Urban Institute's Jeffrey S. Passel, the U.S. workforce would actually begin to shrink by 2015.
It's not all about sheer numbers, of course: To lift productivity and spur growth, immigrants must provide creativity, entrepreneurial energy, or simple initiative that America couldn't find otherwise. "If all you did was bring in people who are exactly the same as those we have here, there would be no economic benefit," says Rand Corp. economist James P. Smith. "You'd just have more people."
That's what makes immigrants such as Nick Gutu so important. Gutu, who defected from Romania in 1969, started as an assembly line worker for Ford Motor Co. and later struggled to make ends meet as a busboy, bartender, and cab driver. A decade after he arrived in the U.S., Gutu started a construction company in Chicago. Now, he also owns a real estate firm and a window manufacturer. He employs 65 people--many immigrants themselves. "You can be anything, depending on the amount of courage you have," he says.
Just as crucial, the array of education and skills immigrants bring could fit neatly with the supply of jobs over the next decade. According to Linda Levine at the Congressional Research Service, a branch of the Library of Congress, 60% of the jobs created through 2005 will require some post-secondary education. But, she adds, low-skill jobs will still represent about half of total employment.
QUICK STUDIES. Compare that job market to the prospective immigrant labor force. Of recent arrivals, only 63% have finished high school. No surprise that, while immigrants make up only 12% of today's workforce, they bus half the restaurant tables in the U.S. Yet immigrants also are 50% more likely than Americans to have a graduate degree. And a staggering 23% of U.S. residents holding PhDs in science and engineering are foreign-born, according to the National Science Foundation. Thus, one-third of all male physics teachers are immigrants as are a quarter of all female doctors, says Portland State University demographer Barry Edmondston.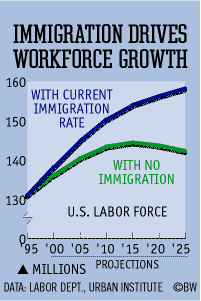 Indeed, foreign-born workers have shown an extraordinary ability to assimilate and flourish. Certainly, some less skilled workers will remain at the bottom economic rung all their lives. Yet others will catch up quickly. Within a decade of their arrival, the well-educated go from making barely half that of native-born Americans in comparable work to nearly 90%, according to a recent study by Mark C. Regets of the National Science Foundation and Harriet Duleep of the Urban Institute.
That, of course, will raise immigrants' living standards, delivering foreign-born workers and their families into America's middle and upper classes. More important, it will help drive innovation and entrepreneurship, key engines of The 21st Century Economy. And the resulting growth will keep attracting more Nick Gutus.
Before it's here, it's on the Bloomberg Terminal.
LEARN MORE