Why The Bulls Are Still Bullish
Stocks may hold more thrills as '99 profits look strong
by
Sure, if you look at the decidedly mixed results that companies racked up in the second quarter, you might think that investors are just a bit overoptimistic. But if you skip ahead--say to the end of the year or, better yet, to 1999, you can not only justify today's prices but get pretty bullish about tomorrow's. That's why, despite the recent record highs scored by both the Dow Jones industrial average and NASDAQ, many Wall Street pros still see stocks rising.
Even as analysts trim forecasts for the third quarter, reflecting the impact of slowing growth, they are forecasting a 14.9% year-over-year gain for the last quarter of 1998. And they're even more bullish on 1999--even though the market retreated after Federal Reserve Chairman Alan Greenspan warned against "unrealistic" long-term earnings forecasts in Congressional testimony on July 21. For 1999, analysts expect operating earnings to advance 18%, says Chuck Hill, First Call Corp.'s director of research.
While some economists fret about a possible recession in '99, the bulls still see plenty of reasons for optimism. Even though Goldman, Sachs & Co.'s megabull, Abby Joseph Cohen, believes that Asia is a "moderate negative" for U.S. corporate profits, on July 20 she set her 12-month target for the Standard & Poor's 500-stock index at an "easily achievable" 1250 by midyear 1999, up from 1200 in mid-July. Cohen's forecast for 1998's second half: a global economy that sees "modest improvement" and "some acceleration" in S&P profit growth.
One reason she's optimistic: Comparisons will be easy over 1997's midyear slowdown. Cohen has long expected S&P 500 composite earnings to reach $50.50 per share in 1998 and $55 in 1999, up from $46.76 in 1997. She has been calling for 6% earnings growth in the quarter just ended, a few percentage points above the 3.7% gain in operating earnings that First Call tallies for the 260 companies in the S&P 500 reporting as of July 21. BUSINESS WEEK's less comprehensive survey of 86 companies came in with a 6% drop in quarterly profits on July 22.
TECH SPARKS. Other bullish strategists say lower inflation will keep the market climbing. Lehman Brother's Jeffrey M. Applegate isn't raising his profit forecast but believes low inflation, interest rates, and stock market risk will boost the market's price-earnings multiple. He thinks the S&P 500 could hit 1250 by yearend, up from his previous target of 1200. In 1999 he sees the S&P 500 at 1400 and the Dow at roughly 11,000, up from 9128.9 on July 22.
Never mind Greenspan's inflation jitters, either. On July 21, PaineWebber strategist Edward M. Kerschner trimmed his expectations for inflation to 2% from 2.25%. When he crunched that into his spreadsheet, he came up with an earnings model that, he says, will produce an S&P of 1430 in 1999, equivalent to an 11,250 Dow.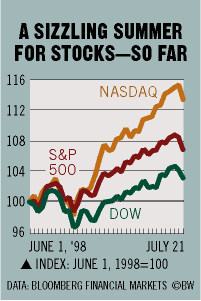 What will keep the market climbing at these levels? Mostly high tech, says Morgan Stanley Dean Witter strategist Peter J. Canelo. Even though the NASDAQ composite is up almost 13% since June 1, he thinks many tech-equipment stocks have only begun to rise. The industry is struggling with inventories now, he says, but once they adjust, the good times will resume. "New spending in tech should boost the economy, and the decline of bond yields and mortgage rates will give us further strength in consumer spending," says Canelo.
Sure, many stocks are likely to suffer sharp declines in the weeks ahead if earnings disappoint. But bulls will be looking well beyond that. And over the long term, the market's upward march is not likely to come to a halt.
Before it's here, it's on the Bloomberg Terminal.
LEARN MORE