Why Mexico Scares The Uaw
Zippy new Mexican plants are churning out more and more high-tech auto parts
Geri Smith and Elisabeth Malkin
Arturo Tovar is a man with ambition. The 28-year-old assembly-line supervisor earns $10 a day, before bonuses and benefits, overseeing 20 men at Rassini Autopartes' state-of-the art suspension-component plant in Piedras Negras, a desert town on the U.S. border. Part of Mexico's Sanluis Corporacion, the plant provides auto and truck suspension systems to Detroit's Big Three and other automakers. In the seven years since he joined Sanluis as a line worker, Tovar has improved his standard of living, trading in his plywood shack for a two-bedroom cinderblock house while climbing the ranks. "I can't complain. I've kept moving up," he says.
Tovar is typical of the hard-driving workers in Mexico's booming auto-parts industry. And he is part of the United Auto Workers' newest nightmare. As workers at General Motors Corp. continue their strike against outsourcing and possible plant closings near Flint (Mich.), Mexico-based auto-parts producers are vastly expanding their influence. No longer do low-skilled Mexican workers merely assemble low-tech parts such as wire harnesses and seat covers. Now, dozens of new plants churn out higher-tech components such as airbags, brake systems, and instrument panels for Detroit's Big Three as well as for European and Japanese auto makers.
FAIRER TRADE. While auto investment has been flowing to Mexico for years, it is the new sophistication and increasing integration, from parts up to R&D and assembly, that worries union chiefs up north. Mexico now exports a total of $19.2 billion in autos and auto parts--up from $7.2 billion five years ago. The industry employs 360,000 people, 55,000 more than in 1994. The latest Mexican surge flows directly from the North American Free Trade Agreement (NAFTA), which phases out tariffs on autos and auto parts between North American trade partners from 20% before 1994 to 6% this year and 0% in 2004. That shift has encouraged the Big Three to move ever bigger chunks of their car and truck operations to Mexico. And it has spurred both local and foreign companies to invest hundreds of millions of dollars in Mexico on technology to produce high-quality auto parts to supply the carmakers.
One of the reasons for the furor in Flint has been the steady southward drift of work at General Motor's Delphi auto-parts division. The unit now employs 72,000 workers at 53 Mexican plants--more than one-third of the unit's worldwide workforce. Mexican workers make everything from wiring systems to engine-control mechanisms to airbags, while engineers at Delphi's technical center in Ciudad Juarez design and test transmissions and brake and engine components for customers around the world. Indeed, with Mexican engineers earning as little as $15,000 a year, compared to over $80,000 in the U.S., more high-skill jobs are likely to shift to Mexico.
That message isn't lost at Ford Motor Co, which is also cultivating its Mexican suppliers. A new parts office in Mexico City is aimed at developing suppliers capable of serving Ford throughout North America. Last year, Ford bought $3 billion in parts from Mexico and the company hopes to raise that by 10% in the next three years. "NAFTA [has] accelerated the whole process of knitting Mexican plants into North American production," says Jose Manuel Machado, president and CEO of Ford de Mexico.
At the same time, local Mexican suppliers are becoming much more savvy and attuned to Detroit's demands. They are investing heavily to become formidable regional competitors with their own design shops in Detroit and Mexico. Sanluis's Rassini unit spent $140 million to expand its suspension component and brake-system production last year. Much of that went to building the new Piedras Negras plant. Rassini's exports climbed from $67 million in 1993 to $157 million last year, and the company expects to increase its share of the North American market for some suspension components from 40% now to 65% by 2000. Meanwhile, Nemak, the auto-parts division of Mexican conglomerate Alfa, is spending $143 million from 1997 to 2000 to become the world's largest producer of aluminum cylinder heads.
To stay competitive, some Mexican producers are linking with the Americans in joint ventures. Spicer, which is 51% owned by Mexico's Desc and 49% by U.S. partner Dana Corp., is racing to modernize its 32-year-old axle plant just outside of Mexico City, installing robots and automated production lines. The plant, which designs and produces axles for light trucks assembled in Mexico and the U.S., faces tough competition from its main U.S. rival, American Axle & Manufacturing, a former GM outfit that was sold to entrepreneurs. American Axle is opening a new plant in Silao, Mexico, at the doorstep of a GM plant that puts together Chevy Suburbans for export to the U.S.
European and Japanese auto-parts suppliers are flooding in too, to meet local-content demands under NAFTA. Under the free trade agreement, by 2004 all autos and trucks must have 62.5% North American content to enjoy duty-free status throughout the region. So Nissan and Volkswagen, both of which have big operations in Mexico, have convinced many of their suppliers to set up operations around their plants in Puebla and Aguascalientes. French glassmaker Saint Gobain has spent $200 million to establish a factory south of Mexico City to supply windshields to VW and other auto makers. Altogether, analysts expect some $4.5 billion in new investment to pour in by 2000, creating Mexican auto zones that possess the latest in parts and assembly knowhow. "There will be more global players coming to Mexico," says Enrique Villasenor, president of Rassini Autopartes.
It's all a striking change from the situation in the early 1960s. Then, a government decree forced foreign auto makers to include 60% local content for any vehicles sold in Mexico. That requirement forced the Big Three to set up joint venture plants with majority Mexican ownership to produce engines and other key components. Then, in the early 1980s, as Detroit looked around for a quick way to reduce costs in the face of Japanese competition, the Big Three began manufacturing more components in low wage maquiladora factories along the border, and stepping up assembly of finished vehicles in Mexico.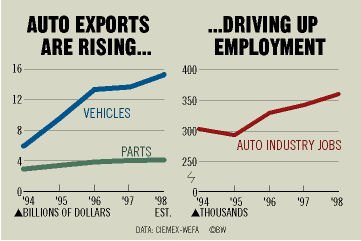 JOBS CHALLENGE. A lifting of restrictions on auto imports in 1991 meant that auto makers no longer needed to assemble 10 different models in Mexico for the local market. In 1994, NAFTA gave the Mexican industry its most recent boost. Now, many sport-utility vehicles and midsize cars are assembled in Mexico, while minivans and luxury cars are produced in the U.S. and Canada. Analysts predict that Mexico's auto production could reach 2.2 million vehicles by 2001, with half of them exported, while its parts industry grows in value to some $9.2 billion.
Such growth prospects underscore the challenge that United Auto Workers and other labor unions will continue to face in struggling to keep jobs in the U.S. As the Big Three and other global auto makers keep pushing to improve competitiveness, Mexican auto workers like Arturo Tovar will have to figure into their plans.
Before it's here, it's on the Bloomberg Terminal.
LEARN MORE