Valley Surveys A Lush Vista
by
Is the banking consolidation about over? Not by a long shot, if some of the pros buying into the banks are right. The recent $8.6 billion buyout of Crestar Financial by SunTrust Banks creates the 10th-largest U.S. bank and puts pressure on some other midsize banks to merge to compete.
Among those feeling the pressure, according to some investment strategists, is Valley National Bancorp (VLY), a Wayne (N.J.) holding company, with assets of $5.1 billion. Rumors are that they are in discussions to merge with a major bank. Valley, at 30 a share, could receive an offer of 45 a share in a stock deal, according to one adviser at a New York investment bank who had tagged Crestar as a takeover target last April. That translates into a price-earnings ratio of 18.7 times, based on estimated 1999 earnings of $2.40 a share. Crestar was valued at a p-e of 22.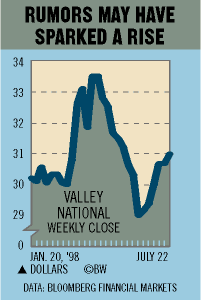 The pro says Valley's operations complement the potential buyer's. Valley provides a full line of commercial and retail banking services through 97 branches in northern New Jersey. It also runs units for mortgage servicing and asset management. The suitor operates mainly in the Northeast, Midwest, and southern states.
According to S&P analyst Michael Schneider, Valley "continues to be one of the industry's top performers in profitability, generating returns on assets of 1.85%, and a return on equity of 19.5%." Valley CEO Gerald Lipkin won't confirm any talks with suitors but comments: "If we get the right offer, they will own us."
Before it's here, it's on the Bloomberg Terminal.
LEARN MORE