Suntrust: Losing Its Glow
SunTrust Banks says its $8.6 billion purchase of Crestar Financial, announced on July 20, meets all its tests for a solid acquisition. But Wall Street disagrees. Under former Chairman Jimmy Williams, SunTrust sat on a hoard of Coca-Cola stock and shunned acquisitions. Investors, hoping SunTrust would be snapped up, bid up its shares. When SunTrust became a buyer, they bolted. Analysts say the deal might help SunTrust survive--but in the long run, might make it a more attractive target.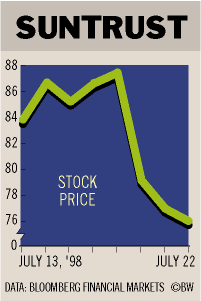 Before it's here, it's on the Bloomberg Terminal.
LEARN MORE