Spain's Success
The economy is fast becoming one of Europe's healthiest
Gail Edmondson
Meta4's name isn't the only clever thing about the seven-year-old software startup. Most of its 550 employees are whiz-kid programmers in their late 20s. Sales at the $23.5 million company doubled last year, and 20% of them are exports. Founder Juan Moran, 39, has banned paper communication at Meta4, insisting on E-mail for speed, and he does his recruiting over the Internet. "In a knowledge-based economy, we can compete very well," says Moran.
The latest high-tech success story in Silicon Valley? No, Meta4 is just outside Madrid--and a prime example of how Spain is racing ahead of European neighbors. Spain's factories are among the most productive on the Continent, its banks among the most profitable. A tier of midsize industrial companies is gaining global muscle. Government-led labor reforms are creating a flexible workforce. And a new generation of managers is promoting innovation and developing intellectual capital. All this has positioned Spain to be a winner in a single-currency Europe, whose nations will have to compete for jobs and capital more ferociously than ever before.
With growth approaching 4% and inflation at just half that rate, the Spanish now benchmark themselves against the U.S. and Britain, rather than France as they used to. In the past two years, the country has brewed up 691,000 jobs, more than half of all new jobs in the European Union. "Right now, Spain is the shining light of the European Union," says Ken Wattret, senior economist at Banque Paribas in London.
BOLD MOVES. Spain is reaping the benefits of long-term economic reforms that started hesitantly and gained conviction in 1986, when it joined the EU. In 1995, corporate tax rates were slashed from 40% to 35%--a big draw for new investment. Bold moves by the government of Prime Minister Jose Maria Aznar, elected in March, 1996, have accelerated the momentum for change. Aznar has pushed through $1.3 billion in government spending cuts, a flat capital-gains tax of 20%, and a freeze on the hiring of civil servants.
His government has also opened key sectors of the economy to competition, including telecoms, oil, and gas, and sold off its remaining stakes in Telefonica, fast-growing bank Argentaria, and energy group Repsol. Revenues from privatizations since 1996 have topped $28 billion, which has helped lower government debt. Last year, in a critical labor reform, the government made it less costly for companies to lay off workers on so-called permanent contracts.
Although the Spanish economy is only one-fourth as big as Germany's, its car industry is No.3 in Europe--behind Germany and France. It is ahead of Britain and Italy, exporting some 80% of the 2.5 million autos that it produces annually. Agriculture has fallen to 4% of gross domestic product--which, at $584 billion, is about the size of Canada's--while financial services account for 15% of output.
The transformation has stunned many who doubted that Spain could cast off its free-spending habits and qualify for the new single currency in 1999. Spain easily made the cut this May. Its budget deficit is at 2.6% of GDP--well below the 3% Maastricht Treaty limit. And with the deficit forecast to fall to 2.4% in 1998, Spain fiscally outclasses many of its neighbors to the north.
Lured by labor costs that are less than half of Germany's, foreign multinationals have been a powerful force in Spain's coming of age, spending billions on factories that now rank among the most productive worldwide. German auto maker Opel has invested a total of $4 billion in its Spanish operations and now exports more than 90% of its Spanish production of Corsas and Tigra coupes. "We were the last train in Europe," says Javier Oraa, board member and general manager at Opel Espana. "Now, we are in one of the leading positions. We want to stay there."
Today's economic success bears little resemblance to the boom of the late 1980s, which led to a resounding bust in 1992. In a growth spurt fueled by government spending and an overvalued peseta, the public deficit soared, inflation hovered between 12% and 13%, and interest rates topped 14%. Spain bit the bullet. Spending cuts, deregulation, and privatization have dominated the government's agenda since 1993. In fact, when it comes to public-sector reform, Spain is at the head of the EU class. The state plans to be out of everything except coal mines by 2001. If it meets that goal, Spain will have outpaced both Germany and France in privatizing state industry.
The wave of privatization has given rise to Spain's first true multinationals. Spain is the world's No.1 investor in Latin America and, for the first time last year, a net exporter of capital. Telefonica, fully privatized in 1997, has invested $5.7 billion in Latin America since 1990 and is the region's No.1 telephone operator.
And in banking and finance, Spain has a global edge. Regulatory reform after the collapse of giant Banco Banesto in 1994 turned a cluster of domestic banking midgets into a handful of powerful financial groups. Banco Santander, with $173 billion in assets, ranks 19th in Europe, while rival Banco Bilbao Vizcaya (BBV), with $141 billion, is No.23. Pretax returns on capital are 18% and 22%, respectively--among the highest in Continental Europe. And their clout is growing. "We now have size. We are able to make big investments," says BBV Chairman Emilio Ibarra y Churruca, who is bidding on banks in Brazil, Chile, and Italy.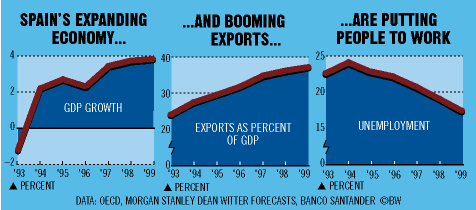 INFECTIOUS. Spain has much unfinished business. Its economic leap has thrown 3 million people out of work--largely in agriculture. At around 19%, the jobless rate remains stubbornly high, largely because firing workers is still more expensive than anywhere else in Europe. The average cost of laying off employees on permanent contracts--who account for two-thirds of the work force--is two years of full salary. Spain also carries the legacy of a heavy public sector.
But the mood in the private sector could prove infectious. The 30- and 40-year-olds now ruling corporate suites are bent on absorbing the lessons of the U.S. For Spain's young generation, staying among the front-runners in the new Europe is everything. "The feeling is this time we can't be left out," says Javier Loizaga Jimenez, a partner at Madrid's Mercapital Financial Services. The smart money is betting they won't be.
Before it's here, it's on the Bloomberg Terminal.
LEARN MORE