Putting A Little Heat On Presto
by
National Presto Industries (NPK), a maker of electrical pressure cookers and frying pans, may soon see its stock start to sizzle. One reason: There are whispers that a manufacturer of housewares, home furnishings, and office products is accumulating shares with a view to making an offer to buy National Presto. Volume in the stock in the past few days has been well above the daily average of 22,000. On July 22, the stock jumped 1 1/2, to 40 7/16, on volume of 422,000 shares.
Any such move could hardly be hostile, since Chairman Melvin Cohen and CEO Maryjo Cohen control 30% of the 7.3 million shares. Other big players have been buying, too. Among them: Mario Gabelli, whose Gabelli mutual funds own 1.5% of National Presto.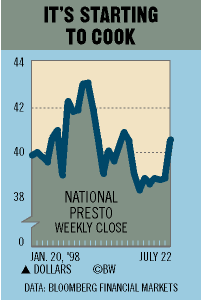 Gabelli says he's buying more shares because they're way undervalued, considering the company's hefty cash hoard of $222 million, or $30 a share, with no long-term debt and book value of $33. And there is every indication, he adds, that Presto will come up with a "new, blockbuster product that could put a shine on earnings."
Investment adviser Charles LaLoggia says that, buyout or not, National Presto is a terrific bargain, with its dividend yield of 5%. "Either the company will make an important acquisition that would improve earnings, or end up being acquired," says the editor of LaLoggia's Special Situation Report. He notes that management implied it was not averse to selling the company when it rejected a shareholder demand last year to sell the company at a public auction. CEO Maryjo Cohen says the company isn't for sale.
Before it's here, it's on the Bloomberg Terminal.
LEARN MORE