Malaysia: Suddenly, Companies Are Falling Like Coconuts
A rising tide of bankruptcies threatens to engulf the economy
Jonathan Moore
Imagine a stock market where many companies are poised to default on loans or file for bankruptcy protection. Where many major corporations have used their stock as collateral for loans--only to see their shares crumble and the loans put at risk. Where one bankruptcy can trigger a disastrous chain of collapses in affiliated companies.
If you think that's a market to avoid, you're right. Fearing widespread bankruptcies, investors have been fleeing the Kuala Lumpur Stock Exchange (chart). In mid-July their nightmares were realized when some major companies started to go under. Now everyone expects the list of corporate failures to swell--and no one can tell where the bottom is. "We are the newest member of the recession club," says economist Zainal Aznam Yusof, an adviser to the Economic Planning Unit of the Prime Minister's Dept.
The most notable filing came from Time Engineering, a telecommunications subsidiary of conglomerate Renong, which itself is arranging its own controversial bailout. Others include shipbuilder Westmont Industries, financial- services firm MBF Holdings, appliance maker Kuala Lumpur Industries Holdings, property developer Wembley Industries, and stock broker Uniphoenix. Still other companies, such as Malaysian Airlines System and DRB-Hicom Group, which makes the Proton car, are scrambling to restructure to avoid filing for protection.
The recent events signal a widening of Malaysia's crisis. When the crisis spilled into Malaysia last year, Prime Minister Mahathir Mohamad made it clear that the government would do its best to prop up the members of Malaysia Inc. But to protect the currency, the central bank has spiked interest rates, which in turn has strangled business activity and made loans hugely expensive to service. Finance Minister Anwar Ibrahim now confirms that the economy this year will contract by 2%. Unemployment is likely to reach 6% at yearend, from around 3.5% now, and the property market, already down 15%, could drop a total of 60% from its peak.
Thus the prospect that many of Malaysia's 840 listed companies could file for protection from creditors is real. A Kuala Lumpur brokerage has analyzed 40 listed companies known to be in trouble. Its findings are grim. Some of the 40 have formally filed for bankruptcy protection. The rest have not filed, but they have already defaulted on $732 million in loans. They will probably default on an additional $3.6 billion in obligations as these come due as well. These defaults would affect about 4% of all the bank loans in Malaysia. Analysts also figure most of the 200 smaller companies on the Kuala Lumpur Stock Exchange's so-called Second Board will be out of business within a year.
One healthy reaction to this meltdown is to embark on some long-needed restructuring. In better times, construction and property company Sungei Way Holdings built a lavish, pyramid-and-sphinx-shaped shopping mall and hotel in a Kuala Lumpur suburb. To avoid default or bankruptcy, the group is dumping its weaker assets and looking for foreign partners to take equity stakes. "We are restructuring, trimming fat, and making ourselves very lean. We've been able to service all our debt," says financial manager Yau Kok Seng. "The companies that wait for economic recovery will not survive."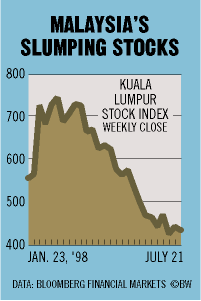 TIME BOMBS. The government hopes a fiscal-stimulus package and a bank-bailout plan can stop the slide by setting the stage for lower interest rates. The prospects for these plans are unclear. Meanwhile, more time bombs are likely to go off. Many banks have taken corporate stock as collateral for loans. But they are now selling the shares as their value has declined below the face value of the debt. That depresses share prices further, making it impossible for cash-starved companies to sell new shares on the market so they can pay off the banks. The obligation to make good on options can be a problem, too. Renong has announced that it cannot honor options requiring it to pay creditors $262 million for their shares in Time Engineering. The options are worth $2.34 a share: Before trading was halted, Time Engineering was selling for just ten cents a share.
Now many in Malaysia are hoping a dramatic overhaul of the corporate sector will reverse the slide. "We need to do more than just make companies competitive, we need to restructure whole industries," says Khoo Eng Choo, managing director of PricewaterhouseCoopers in Kuala Lumpur. The way things are going, much of that restructuring will occur in bankruptcy court.
Before it's here, it's on the Bloomberg Terminal.
LEARN MORE