China: Growth But Not Enough Of It
China's growth might produce envy among its neighbors, but the economy has slowed enough to raise worries about unemployment and devaluation.
On July 17, the government said real gross domestic product grew 7% in 1998's first half compared with a year ago, down from an 8.8% gain for all of 1997 (chart). Retail sales were up 6.8% in the first half, while fixed asset investment--a proxy for capital spending--rose 13.8%.
The government also said that a rising trade surplus accounted for a quarter of the growth in the first half. But the outlook for trade is troublesome because of the financial crisis in the rest of Asia and poor weather. Export growth has slowed to 7.6% in the first half, down from 21% a year earlier, with a drop in shipments to Southeast Asia and Japan. And a drought in China's farm belt and simultaneous floods elsewhere have caused crop losses, leading to an increase in grain imports.
A weaker trade picture is a big reason real GDP will slow further in the second half, probably resulting in 6% growth for all of 1998, the slowest since 1990. And that is not fast enough to absorb the millions of workers let go by inefficient companies as China industry tries to modernize and privatize.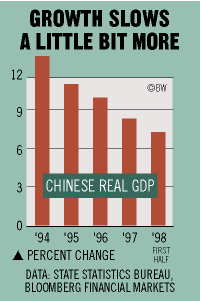 In response, the Bank of China has cut interest rates five times in the past 26 months. On June 30, the bank slashed rates by more than a percentage point. The move will help cash-strapped companies but will do little to stimulate consumer spending since most consumers have little access to credit. A recent survey found worries of layoffs are causing households to delay purchases.
The Bank of China has great leeway to cut rates even more because prices continue to fall. Consumer prices are down 3% in the year ended in June. But lower rates and deflation are raising the pressure for a currency devaluation. Beijing remains resistant to such a move--which is good news for the rest of Asia. A cheaper yuan would likely create a devaluation spiral across Asia, prolonging the recessions in the region.
Before it's here, it's on the Bloomberg Terminal.
LEARN MORE