American Carriers Resist The Urge To Splurge
U.S. airlines aren't ordering a slew of new planes in case the expansion fades
by
You can practically set your clock by it. Just as an economic expansion starts to peak, airlines, attempting to keep up with fast-spending consumers, order a slew of new planes. Then the inevitable slowdown comes, and they're left with empty seats and sagging bottom lines.
With that painful scenario in mind, investors have been dumping airline stocks, despite record quarterly earnings. AMR Corp. had it worst: After announcing on July 15 that second-quarter profits had jumped 35%, to $409 million, its shares slid 17% in three days.
There is reason for concern: In 1999, for the first time in six years, the growth in the number of airplane seats is likely to outpace traffic growth, analysts say. Meanwhile, Asian economies are in the tank, Latin American countries are beginning to suffer, and some economists are now talking about a possible U.S. recession in 1999.
REFURBISHING. Industry executives insist that this time around they're not flying into the red, though--and they may be right. With planes fuller than ever and airline profit margins running double what they were at the last peak, carriers may be able to take on more planes without flying half-empty. And based on the number of planes that are on order, capacity will grow by less than 5% per year over the next three years--well below the high of 10% in the 1980s. "Five percent used to be the average," says PaineWebber Inc. airline analyst Samuel C. Buttrick. "Now it's the peak."
Could it be that the airline industry, never known for restraint, is resisting the urge for a boom-time splurge? Maybe. United Airlines Inc., for example, has opted not to replace 75 aging Boeing 727s, even though it could lower costs and boost profits by doing so, says Chief Financial Officer Douglas A. Hacker. Instead, it will refurbish the old aircraft. Why? If a recession comes, United could retire the planes without having paid for new aircraft. Similarly, Continental Airlines Inc. has been expanding aggressively, building up its hubs in Houston and Newark. But President Gregory D. Brenneman says that the company has left itself with plenty of flexibility to retire planes. "Our testosterone levels are pretty low," he says. "We just want to make money."
The airlines might still hit a wind pocket, most likely on international routes. In Asia, Northwest Airlines Inc. and United--the leading players to the Pacific--saw about $200 million in second-quarter revenues disappear. Northwest and its rivals have cut back schedules in many of their Pacific markets. But a new bilateral pact with Japan has limited their options: If airlines don't add new routes now, they lose the right to fly them in the future. Latin America is no party either. Forecasts of growth in gross domestic product have come down in both Argentina and Brazil--but carriers, fighting for market share, boosted capacity by 15% in the region last quarter, says Salomon Smith Barney analyst Brian Harris.
"BANNER YEAR IN 1999." Business in Europe remains healthy, but capacity in the area is growing quickly, partly because airline carriers are bringing in planes they had been using for flights to and from Asia. Northwest shifted a Boeing 747 from its Osaka-Honolulu route to its Detroit-Amsterdam route and plans to boost its capacity to Europe by 30% this year. "The consumers may see the return of some real bargains," says Michael E. Levine, a Northwest executive vice-president.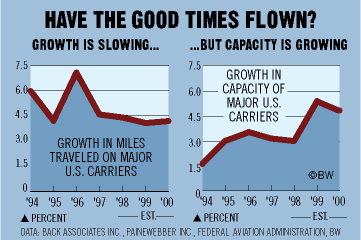 What happens in the domestic market? For four years, demand for flights has grown almost twice as fast as supply, according to BACK Associates, an aviation data firm. That has airline carriers shopping for capacity--but very conservatively. They plan to add just 3% more domestic capacity annually for the next three years. "Under most reasonable scenarios, the industry ends up with a banner year in 1999," says Buttrick, "but only the second-best year in its history." If he's wrong--and carriers suddenly must scramble to fill half-empty planes--you can look forward to some very cheap end-of-millennium jaunts.
Before it's here, it's on the Bloomberg Terminal.
LEARN MORE