A Long Stalemate May Be Ending...But The Poor Are Getting Impatient
Victoria Burnett
Pierre Fritz Nel leans against the doorpost of his neighbor's wooden shack and casts a despairing eye over the slum chaos of La Saline. He hopes that someday the government he helped elect will replace the stinking canal of bubbling black waste in front of his house with a proper sewer. That someday he will have running water. Maybe even a job. "We voted for the Lavalas Family," says Nel, referring to the ruling party founded by former President Jean-Bertrand Aristide. "Now, look at the unemployment, the problems. I'm really disappointed."
But Nel, and the rest of this nation of 7 million, may soon have a bit more reason to hope. A political standoff that has left Haiti without a Prime Minister for more than a year, stalling economic reforms, blocking vital international aid, and eroding faith in the leadership of President Rene Preval, may be ending. Preval's party and the main opposition, the Organization of the People in Struggle (OPL), agreed on July 8 to appoint a new electoral council and stage a rerun of disputed elections in April of 1997. And on July 16, Education Minister Jacques-Edouard Alexis became the latest in a line of candidates put forward by Preval for Premier.
Free of alliances with any party, Alexis may stand a better chance of approval from Congress than the last three candidates, who were dismissed by OPL leader Gerard Pierre-Charles as puppets of Aristide. The former President is widely believed to be pulling Preval's strings while he prepares to run for office again in 2000. Alexis "is someone who represents some guarantee that the next elections will be unbiased," says Pierre-Charles.
Haitians also pray a new Premier can get the economy moving again. Under the economic reform program, nine state enterprises are to pass to private hands. The privatizations form the backbone of an agreement with the International Monetary Fund that could bring hundreds of millions of dollars into state coffers. But all such deals need the Prime Minister's signature. And former Premier Rosny Smarth signed only one--a $9 million deal with two U.S. companies and a Haitian bank for a 70% stake in the state flour mill--before he resigned in June, 1997.
The remaining eight privatizations--a cement plant, the state electricity company, phone company Teleco, the Port-au-Prince airport, a seaport, a palm-oil company, and two banks--are on hold. Also awaiting a new government is the budget for the 1997-98 fiscal year, which ends on Sept. 30. In the absence of a budget, Preval is using last year's, causing international donors to postpone aid payments. Feeble growth has tailed off even further, with gross domestic product expected to rise less than 1% in the 1997-98 fiscal year, compared with 1.1% in '96-'97 and 2% in '95-'96.
In the meantime, little capital is flowing. "When you don't have a government, investors are not going to put their money into the economy," says economist Kesner Pharel, who runs his own consulting firm in Port-au-Prince. "Tell me one serious country that can be without a government for a year."
As the infighting has dragged on, alarm within the international community has grown. A delegation from the U.S. Congress in early July gave Haitian leaders an ultimatum: Resolve the crisis in the next couple of months or risk losing all U.S. aid, which amounted to $70 million last year. Repeated U.S. entreaties to end the stalemate, including a visit in March from Secretary of State Madeleine K. Albright, have been seen as an attempt to salvage the triumph of 1994, when a U.S.-led invasion ousted dictator Raoul Cedras and restored the democratically elected Aristide to power.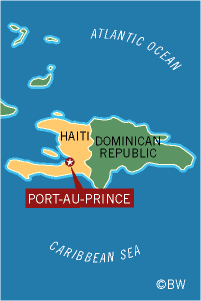 Haitians are understandably becoming impatient with a democracy that has improved freedom of speech but not their pocketbooks. With 70% of people unemployed or underemployed and annual per capita income stuck around $230, Haiti is still the poorest nation in the Western Hemisphere. "People fought really hard," says unemployed dock worker Jean Napoleon, 46. "But now, we see it's all the same." U.S. officials disagree, citing the inevitable setbacks in the slow process of healing a damaged country. "I think Haiti is generally on the right track," says one. "It's just taking some time to move forward." It sure is--13 months and counting.
Before it's here, it's on the Bloomberg Terminal.
LEARN MORE