U.S.: Plot Twists In The Second Half?
Inventory growth and foreign trade could send the script in new directions
By
Like network reruns, the latest data seem to repeat what we've already seen. Consumers continue to whip furiously around the shopping malls. Producers are slowing output in response to the Asian crisis, and the inflation numbers look tame. But don't let the recurring trends fool you. Like season-ending cliffhangers, the economy's performance in the second quarter could open the way for plot twists this fall.
Clearly, the economy slowed last quarter, perhaps precipitously, given the falloff in inventory gains (chart). But the data over the next few months will be crucial in showing whether growth is shifting into a lower gear or just taking a breather. The implications for inflation, Federal Reserve policy, and Wall Street will be especially consequential.
The Fed is already increasingly nervous as it waits for the economy to slow. Despite the tame June data on consumer and producer prices, inflation clearly has stopped falling and, in fact, picked up a bit in the first half of 1998, compared with its 1997 pace. A slowdown in the economy for the rest of the year will be needed to assure both policymakers and investors that any inflation pickup will stay small. Stock and bond investors are betting that inflation and interest rates will stay comfortably low. But the odds are rising on that wager: At the Fed's May meeting, two formal dissents were cast against leaving policy unchanged.
As if the Asian crisis were not enough to alter the economy's landscape, the strike at General Motors Corp. will make it even harder to make sense of the data in coming months. The work stoppage has already hit June output and employment, and now that it has dragged on into July, this month's indicators of activity will get hammered even harder, as the impact spreads out to secondary industries.
THE KEY AREAS TO WATCH will be consumers, foreign trade, and inventories. First, though retail sales slowed in June, consumer spending stayed surprisingly strong last quarter, and any overall slowdown will not last unless consumers participate. Second, the Asian impact on trade has been somewhat larger than generally expected, but its drag on U.S. growth is likely to lessen in the second half. And third, slower inventory growth, after a huge first-quarter buildup, took a big bite out of second-quarter growth, but the impact of inventories on growth in the second half is still iffy.
The combination of strong demand and slower output growth last quarter appears to have cut inventory growth substantially. Business inventories in May fell 0.1%, after a 0.1% increase in April. In the first quarter, stockpiles rose an average of 0.5% per month.
Looking ahead, inventory levels are not out of line with sales, given that the ratio of stock levels to sales held at 1.38 in May, close to the average for the past year. However, the April and May data suggest that any necessary adjustment of inventory levels is occurring very rapidly. While that sharp slowing in stocks undoubtedly subtracted a big chunk from second-quarter economic growth, it also means that less adjustment will be necessary in the second half, especially if demand remains strong.
IN FACT, ONE OF THE BIGGEST surprises in the second quarter was the resilience of consumers. While retail sales rose a scant 0.1% in June, May purchases were revised up to show a 1.2% jump, instead of the 0.9% gain originally reported. April buying rose 0.7%. Retail sales grew at an annual rate of 8% last quarter, about the same as the 8.3% increase in the first quarter, and even after adjusting for inflation, sales did not slow very much (chart).
In fact, based on key retail groupings used by the Commerce Dept. in calculating real consumer outlays for the gross domestic product report, along with the quarter's surge in car sales and service purchases through May, real household spending appears to have risen at an annual rate of 5% or more last quarter. That advance would follow the first quarter's 6% surge. First-half outlays may well show the strongest two-quarter gain in more than a decade.
A dropoff in consumer spending in the third quarter seems almost inevitable--though that's what most analysts said after the first-quarter spurt. This time, however, the culprit will be car sales. Generous incentive programs in May and June lifted sales to levels not seen since the late 1980s. The quarterly increase was the largest in five years. The June 30 expiration of those deals, along with an expected shortage of GM cars, will hit sales hard this summer, acting as a big drag on overall consumer spending even if consumers continue to buy plenty of other stuff.
THE LATEST DATA may show that consumers are keen on shopping, but they generally remain bargain hunters, as the success of the May and June auto incentives makes clear. But some producers have been able to slip through price increases, especially for services and even for some goods that face little foreign competition. Those increases suggest that while inflation will stay low this year, the best news on the price front is past (chart).
Overall consumer prices rose 0.1% in June, after a 0.3% increase in May. Core prices, which exclude the volatile food and energy components, increased 0.1% after a 0.2% gain in May. But so far this year, core prices have advanced at a 2.5% annual rate, up from the 2% pace in the last half of 1997.
The source of that acceleration is surprising. Core service prices are rising at a 3.1% annual rate in 1998, vs. 2.9% in the latter half of 1997, but core goods prices are up 1% so far this year, compared with just a 0.1% gain in the previous six months. Tobacco products, medical commodities, and used cars and trucks have contributed greatly to the acceleration in goods prices.
That small uptrend echoes a similarly gentle rise in producer prices. Core prices of finished goods have risen 0.2% in each of the past three months, and they have grown at a 1.4% annual rate so far this year, compared with just 0.1% over the previous six months. As in consumer prices, tobacco and drugs have led the price increases at the producer level.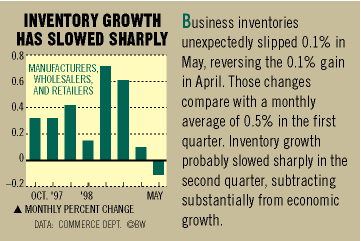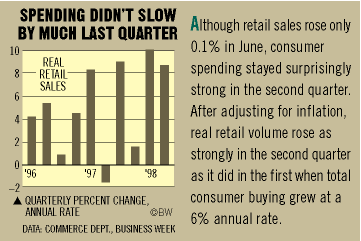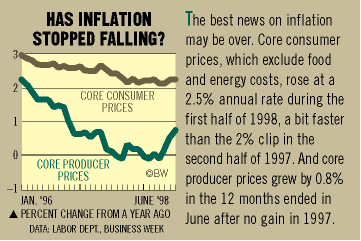 For the rest of the year, at least, import prices should provide some relief to the recent uptick in goods inflation. Nonoil import prices fell 0.3% in June and are down 3.6% from a year ago. The dollar's continued strength means the prices of foreign-made goods could fall further through the rest of 1998.
But unless a cooler pace of domestic demand slows the overall economy, homegrown price pressures will overcome foreign-generated inflation benefits. If so, discord among Fed policymakers will spread beyond just two dissenters. And that's one plot twist in the second half that Wall Street would not welcome.