Splicing In Store For Houston?
By
The stock of Houston Industries (HOU), a diversified energy company, has been on a roll: It winged up from 20 in August last year to 31 on July 14. The rise in recent weeks stemmed from merger talk: PowerGen, Britain's second-largest electrical utility, was rumored to be in talks with Houston, and this got a lot of press in the U.S. and Europe in early June. But on June 29, PowerGen announced it had agreed to buy Britain's East Midlands Electricity for $3.5 billion from Dominion Resources in Richmond, Va.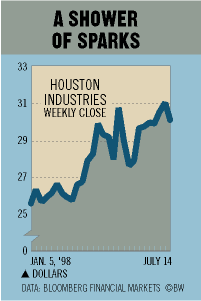 Has that deal scuttled a PowerGen-Houston merger? Many analysts believe it has, including Edward Tirello Jr. of BT Alex. Brown, who says he's bullish on Houston for its fundamentals. But Steve Fleishman of Merrill Lynch Global Securities believes the talks are still alive. Internal goings-on at PowerGen indicate a deal is brewing, says the analyst. "Such a merger would create the first global powerhouse in the electricity industry," says Fleishman. The merged entity would have a market value of $17 billion, with operations on four continents. The geographical fit "would be superb," he adds, with PowerGen's beachheads in Europe and Asia and with Houston's strong position in the U.S. and Latin America. In addition, Houston's expertise in gas and retailing would mesh nicely with PowerGen's strength in generating, says Fleishman. PowerGen acknowledges it's looking for a U.S. partner. Houston declined comment.