Netopia: An `Internet Sleeper'
By
It's no secret that Internet stocks are on fire. But some pros are on the alert for those still only smoldering. Nikos Theodosopolous, a top technology analyst at Warburg Dillon Read, says he has discovered an "Internet sleeper": Netopia (NTPA) makes Internet hardware and software products that enhance the capabilities of small businesses and home-office users. Now trading at 7 1/2 a share, Netopia should reach 12 this year, he says.
The real wild card for Netopia is its Netopia Virtual Office software (NVO), which allows users--primarily home offices--to set up Web sites in seconds, at reasonably low cost. Netscape Communications and Netopia have signed a deal for Netscape to offer NVO as part of its services.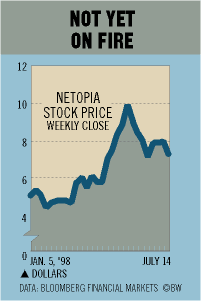 Netopia has also signed pacts with high-traffic Internet servers, such as GeoCities and Earthlink Network, to provide NVO Web sites with content and Net services. If NVO becomes a success, says Theodosopolous, the value of Net-opia will skyrocket. He figures Netopia will post a loss of 11 cents a share in fiscal 1998 on revenues of an estimated $47 million. But he expects it will make money in 1999, earning 30 cents a share on revenues of $60.5 million.
Netopia is expected to form alliances with other Internet companies. Netopia CEO Alan Lefkof says he plans to sign up more major players to broaden NVO's appeal. "Our goal is to have anyone with a business card to have a Web site of his or her own," says Lefkof.