London Is Back At The Cutting Edge Of Couture
A new crop of young Brits is taking the fashion world by storm
Kerry Capell
Just four years ago, Antonio Berardi was a struggling student at the prestigious London fashion school St. Martin's College of Art & Design. His fortunes began to change when exclusive English retailers Liberty plc and La Mode snapped up the seven women's outfits he produced as his "degree collection." Soon after, the Japanese manufacturer Renown Look Inc. agreed to produce his designs in Japan. Now, the 29-year-old Brit's line of women's wear, made in luxurious fabrics with elaborate trim, is found at posh boutiques and department stores worldwide. With $5 million in sales in 1997, "I've only recently stopped relying on my parents for funding," he jokes.
Make way, Calvin, Donna, Ralph, and Giorgio: The Brits are back. Led by new, young talent such as Berardi, English designers are taking the international fashion world by storm. In the past two years, London has supplanted Paris, Milan, and New York as the center of cutting-edge couture. "London is the first port of call for every top clothing buyer," says Angela Quaintrell, a Liberty buyer. U.S. retailer Saks Fifth Avenue plans to feature the collections of more than a dozen new British designers in September. London has also become the favorite destination of international designers, many of whom are buying up pricey London real estate to open new stores or expand existing ones.
"UNIMAGINABLE." Britain's up-and-comers are known for their detailed and unique creations. While Alexander McQueen has his razor-sharp tailoring and dramatic cuts, newcomers including the likes of Hussein Chalayan, Elspeth Gibson, and Matthew Williamson are generating a buzz in fashion circles for their embroidered, beaded, very feminine handwork. It sells. The British design industry has more than tripled over the past decade, to a wholesale value of $985 million last year, with 70% of sales from overseas.
England's stature in the international fashion industry has also gotten a dramatic boost now that three Brits--all under 30--were brought into France to run Christian Dior, Givenchy, and Chloe. "Five years ago, British fashion designers heading up France's top houses would have been unimaginable," says John Wilson, chief executive of the British Fashion Council.
For many Brit designers, the toughest sell has been in their own home market, where financial backing and distribution and licensing agreements with retailers have been hard to come by. Part of the problem was that the major department stores would not sell their designs under their own labels. Instead, the stores hired the designers as anonymous consultants, paying them but giving them no credit. Marks & Spencer PLC, for example, still puts its own label on garments designed by famous consultants such as Ghost's Tanya Sarne, known for her ethereal dresses favored by Hollywood celebrities.
This is beginning to change. Looking to boost sales, retailers and manufacturers are increasingly involved in the promotion of homegrown talent. Department store chain Debenhams PLC is selling the creations of designers such as Jasper Conran under the designers' own labels. And women's-wear designer Ally Capellino advises Coats Viyella PLC, one of the country's leading textile manufacturers, on design. Retailers are becoming more label conscious, says Wilson, who believes that over time this will help British designers develop the same sort of licensing skills that have made their competitors in France and Italy commercially successful.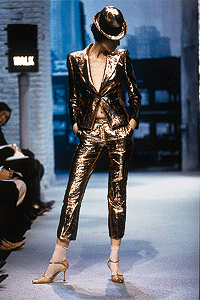 In the past three decades, only a handful of British fashion designers have achieved lasting international fame. One is miniskirt-and-makeup maven Mary Quant. Another is Paul Smith, who made his mark designing well-tailored men's clothes. There's also Vivienne Westwood, who first became known in the early 1970s as the priestess of punk chic. Expanding her fashion empire this spring, Westwood launched a new line of clothing called Anglomania. In 1999, she will open a boutique in New York and introduce her first fragrance. And longtime London favorite Nicole Fahri, whose company is part of the French Connection Group PLC retail concern, will open a New York store in September.
While it took such veterans years to build new product lines and cultivate an international presence, Britain's new stars are rocketing to fame. With most of the world's celebrated designers approaching middle or retirement age, the British newcomers are likely to shine bright for a long time to come.