A New Dynamo Hums In The Baltics...But Tourists Haven't Found It Yet
Justin Keay
Forty kilometers north of Vilnius, a pile of stones marks the spot designated by the French Geographic Institute as the center of Europe. Rival sites exist, but Lithuanians believe the French calculations, made in 1989, are the last word on the matter. "We belong at the heart of Europe," argues President Valdas Adamkus, 72, who lived in the U.S. for 50 years before returning to this nation of 3.7 million and becoming its third democratically elected President, in January. "Our priorities are to join the European Union and NATO."
It won't happen soon--but EU membership may be on the horizon. Sitting in his office in the recently refurbished, classical-style presidential palace in Vilnius' Old Town, Adamkus proudly describes the transformation of this poorest of the three Baltic republics since it made headlines in 1990 by becoming the first Soviet nation to declare independence. Gross domestic product grew 6% last year after averaging just 0.6% over the previous three, and World Bank deputy resident representative Mantas Nocius expects 1998 to match 1997, with inflation between 6% and 8%. "We're very pleased with Lithuania's progress," he says. Adds Algirdas Semeta, the thirtysomething Finance Minister: "From the macro standpoint, last year was the most successful since independence."
CONFIDENT. The main reason for the turnaround is a strong pro-business government, elected in November, 1996, and led by Prime Minister Gediminas Vagnorius. In the past six months it has pushed privatization, which had languished following an ambitious round in 1992. A new privatization law, passed last November, gives the State Property Agency greater clout over conservative ministries. Foreign investors are responding: On June 25 the agency announced the sale of 60% of Lithuanian Telecom for $510 million to a consortium called Amber Teleholdings, comprising Sweden's Telia and Finland's Sonera. Officials are confident they will soon finalize the sale of the Mazeikiai Nafta oil refinery, one of Europe's largest, to Williams Cos. of the U.S. Lithuanian Airlines and big sugar refineries are supposed to be sold, and Parliament may soon pass a law allowing land sales to foreigners. The private sector now accounts for more than 70% of GDP.
Evidence of the economic renaissance is visible everywhere. After years of making do, the young sport the hottest Western brands, while newspapers are full of ads for Mediterranean holidays. Vilnius boasts newly sprouted restaurants ranging from Mexican to Italian to high-class French. Young shoppers crowd into modern supermarkets such as Iki, a new chain fast extending across the country. And this year, $9 million is being spent to restore the Old Town, a gem combining Gothic, Baroque, and classical styles and designated by UNESCO as a World Heritage Site.
President Adamkus believes this kind of dynamism should persuade the EU to change last June's decision to admit only five nations--Poland, the Czech Republic, Hungary, Estonia, and Slovenia--in the first wave of expansion. "Estonia's inclusion was a major incentive for us," he says. "I am convinced that by late 1998, Brussels will invite us to begin negotiations." He pauses, then adds: "However, I know this is political and not decided on merits. Let's say I am a realist." Spoken like a true European.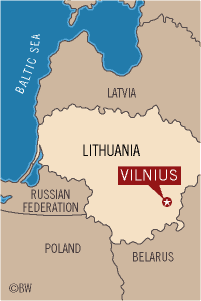 Lithuania would seem to have just about everything for tourists: beautiful, historic cities like Vilnius, dubbed "a second Prague"; romantic castles, including the 14th century island fortress of Trakai, set in a landscape of rolling hills and lakes; and an unspoiled coastline. It also boasts an increasing number of Western-style hotels and restaurants, even away from the big cities. It offers low prices and friendly and attentive service. What it doesn't have is a tourism strategy, or for that matter, many tourists. "If only we could attract some of the 10 million Finns who travel across to Tallinn," moans Alfredas Slekys, the recently appointed tourism czar, who admits that more than half of Lithuania's annual 1 million tourists come from cash-strapped nations of the former Soviet Union.
In his old job as head of the export development agency, Slekys had great success. He says selling Lithuania itself is a good deal tougher. The country has no image abroad, and the initial flow of diaspora Lithuanians eager for a look at their native land is tapering off. He plans more aggressive promotion in the West but seems a bit vague as to his approach. A nice slogan might help: "The heart of Europe," perhaps?