Where's The Dreaded Spike In Health Costs?
Premium hikes stay small as employers call the shots
Keith H. Hammonds
This was going to be the year the health-care honeymoon ended. Employers who had enjoyed three years of blissful pricing moderation braced for the reemergence of significantly higher premiums from newly fortified insurers. Benefits consultants, Wall Street analysts, and the media--BUSINESS WEEK included--all predicted that health maintenance organizations would win increases of at least 4% and as much as 6% or more this year, and substantially higher gains in 1999.
Now, evidence is mounting that the honeymoon isn't quite over. Despite a public outcry against stingy managed-care programs that has President Clinton and other politicians racing to add costly mandates, the cost of providing health care is not leaping. A recent survey of 1,583 employers by KPMG Peat Marwick finds average health premiums up just 3.3% this year. Benefits consultant Towers Perrin's estimate is about the same. And in a June BUSINESS WEEK/Harris Poll, senior executives said their companies' health costs would jump just 3.5% in the next 12 months--barely changed from the forecast last year.
In many places, it turns out, employers still call the shots as insurers struggle to grab market share in what is becoming a commodity business. Gillette Co., for one, predicts its HMOs nationwide will propose price increases of 3% to 6% for next year--but it expects to settle at between 1% and 3%. How? It "will let [HMOs] know what [the competition] is charging, then let them decide if they want to lower the rate," says Deborah Winer, manager of welfare plan administration.
Similarly, Greyhound Lines Inc.'s health-care costs will increase by 3% this year, and about the same in 1999--"lower than we thought," says Benefits Director Roy Shaver. Meanwhile, the Group Insurance Commission, which represents 300,000 state employees in Massachusetts, secured premium increases averaging 3.6% for contracts effective on July 1--higher than last year, but still modest.
That bodes ill for HMO earnings. The difference between the old 5% forecasts for 1998, which public HMOs and Wall Street still cling to, and the more recent data represent some $6 billion in premium revenue, perhaps a third of total managed-care industry profits. Given that most HMOs haven't had much success lately in cutting payments to doctors and hospitals, their profit growth depends almost entirely on hiking prices.
"WISHFUL THINKING." HMO stocks--notably United Healthcare Corp. and Wellpoint Health Networks Inc.--have risen this year, largely on the promise of stronger pricing. That could be hard to live up to. The "predictions of faster [premium] increases were predicated on wishful thinking on Wall Street," says Howard R. Veit, managing principal at Towers Perrin's health practice.
To be sure, medical prices ultimately will head higher: Aging baby boomers will lift demand for health services over the next several decades. Drug spending is soaring, up 15.4% in the first quarter from a year earlier, a function of more expensive new products and volume growth, according to researcher IMS Health Inc. And there are political pressures: The federal Patient Access to Responsible Care Act and state efforts to raise care levels could push up costs by several percentage points if enacted.
The question is, who will pick up the tab? Employers are bound to accept some inflation, since switching carriers generally brings extra costs and employee discontent, says John C. Erb, a vice-president at Gallagher Benefit Services in Boca Raton, Fla. Yet health plans, despite the ongoing consolidation, still haven't achieved the market power needed to dictate negotiations.
That's why many experts now believe that the rise in rates will be more gradual, and shallower, than previously thought. KPMG Managing Partner Richard D'Amaro estimates the increase for 1999 at 5% or 6%, down from the 8% to 10% commonly forecast six months ago. Aetna Inc., which says it won HMO price hikes of "5%-plus" in this year's first quarter, expects a gradual acceleration to around 7% next year.
MEDICARE SHIFTS. Besides HMOs' inherent weakness, several factors will help curb premium growth. Underlying medical cost inflation, as measured by the consumer price index, is startlingly low. At 3% in May, it's up from its recent low of 2.5% last October but remains well below its highs in the early 1990s. Even that figure likely overstates true inflation, the Labor Dept. concedes, since it fails to capture quality improvements as well as the shift in medicine from hospital stays to less expensive outpatient treatment and drug therapies.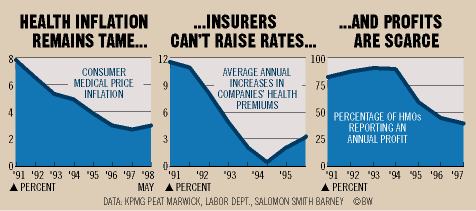 At the same time, new Medicare reimbursement rules are unlikely to shift costs abruptly onto commercial payers, as analysts once feared. While Medicare's reimbursement to HMOs will gradually ebb in some markets, it generally will be generous enough to allow high profits. And new Medicare rules for inpatient stays will have little effect on hospitals' profitability, says Stuart Guterman, deputy director of the Medicare Payment Advisory Commission, since they simply scale back increases that were unlikely to be enacted anyway. So costs to HMOs are unlikely to rise as well.
Insurers are left with a conundrum. To justify higher premiums over the long haul, they must demonstrate that managed care can provide better service. But to build up service, they need higher premiums. And for now, they appear mired in the incessant price wars that have throttled earnings since 1995. Employers are winning, while HMOs face what could be another long, unprofitable summer.
Before it's here, it's on the Bloomberg Terminal.
LEARN MORE