Where Paternalism Equals Good Business
William C. Symonds
Last April, John Gaucher's doctor asked him if he was worried about losing his job. After all, the A.W. Chesterton Co. vice-president, 50, had been disabled for weeks with severe pancreatitis. Gaucher laughed: "I have no concern at all."
With good reason. From the day Gaucher was hospitalized, Chief Executive James D. Chesterton assured him: "Don't worry about a thing. We're behind you 100%." Gaucher's team worked overtime to hold things together, while sending everything from files to fruit baskets to their stricken leader. John's wife, Joan, lost count of the get-well cards, flowers, and calls from Chesterton employees, some as far away as Latin America. "At a time like this, you find out who your friends are," says John, now back on the saddle. "In my case, it was virtually everyone at Chesterton."
The incident is far from unusual at family-held Chesterton in Stoneham, Mass., where old-fashioned paternalism is still in style. Every Christmas, the CEO--"Jim" to all--undertakes a quaint "walk-around" ritual, thanking each employee and handing out gifts. That's backed up by gold-plated benefits: up to six weeks of paid vacation, up to six months of fully paid short-term disability, and a profit-sharing plan that hands out 22.5% of annual profits to workers. One 28-year veteran has amassed $500,000. At a time when turnover in Corporate America is the highest in a decade, "we don't even bother to track it," says Rita L. Whelan, director of human resources. Indeed, 47% of Chesterton's 1,500 employees have been on the payroll for more than 10 years.
But this cozy culture is being tested as never before. Chesterton, a $200 million producer of mechanical seals, pumps, and other flow-control products, finds itself in an industry that is consolidating and turning cutthroat. In the past two years, four top competitors have merged into two companies, putting "enormous pressure on us," concedes Senior Executive Vice-President Greg Plakias. At the same time, Chesterton's customers, including the oil, chemical, and pulp industries, are seeking single suppliers big enough to meet all their needs. So Chesterton is at a competitive disadvantage to its larger rivals. "They are almost a lone ranger," says Bernard G. Rethore, chairman of $1.2 billion Flowserve Corp., a merger of two Chesterton rivals. Chesterton "must look hard at its future," he adds.
"BIG OBLIGATION." He's right. Both profits (which are undisclosed) and profit-sharing are down from the 1980s, the company says, and "we are struggling to grow as fast as we'd like," Jim admits. But he believes that preserving a corporate culture that he calls "an extension of my family" may help him go up against the giants. He scoffs at suggestions of slashing benefits to save money, arguing "we have a big obligation to people who have staked their lives on our company."
Jim is even more adamant about not selling Chesterton, although he gets "calls almost daily from investment bankers," he says. Cashing out would be the easiest course for Jim, whose 22% stake is worth at least $50 million. It's also the course pushed by his cousin, Arthur W. Chesterton, namesake of the founder and Chesterton's largest single shareholder. So far, Jim, 66, whose family controls the majority of shares, has prevailed. Last fall, he went all the way to the U.S. Court of Appeals to keep Arthur from selling his shares. Arthur, says Jim, "has no particular loyalty to the company."
But even Jim admits that some painful changes are needed. He has suspended, at least temporarily, taking employees and their spouses on all-expense-paid vacations to Disney World, Las Vegas, and other resorts. More important, five years ago, he recruited Plakias, a battle-hardened veteran of the computer wars at Digital Equipment Corp., to forge a new strategy. Plakias ordered the first restructuring in Chesterton's history, closing four of its eight plants and trimming the payroll by 13%, or 200 workers. It was a radical step for a company that refused to lay off workers in the early 1980s, "even when there was nothing to do but sweep up the parking lot," recalls Manny Sal'e, a worker at the Groveland factory. Jim was in tears when he made the announcement.
GOOD VALUE. He decided then to give employees access to confidential information. If they understood the problems, they might find solutions, he reasoned. Now, top management meets quarterly with 80 worker representatives, briefing them on company performance and letting them ask questions. As a result, Manny Sal'e figured out a way to save $200,000 a year by reducing the amount of metal in a key part. Chesterton has a "safety wins" program, in which workers share 25% of the savings from fewer accidents--$500,000 in '97. "They really involve their employees in some very creative ways," says Charles M. Stockinger, executive director of the American Supply & Machinery Manufacturers Assn. In June, it gave Chesterton its top award for employee programs.
This close-knit culture was well established when Jim, then 25, joined the company in 1957. His grandfather founded Chesterton in 1884 as a supplier to Massachusetts' many mills, and then passed the reins to Jim's father. By the 1950s, the mill supply business had evolved into a producer of mechanical packing for pumps, with sales of about $1 million a year. The company had some 50 employees, so "you quickly got to know everyone," says Jim.
That's the atmosphere he's striven to preserve since becoming CEO in 1989, even though the workforce has increased thirtyfold. Jim hosts a Christmas party and a summer picnic for workers and their families. He works 70-hour weeks but still takes time for the personal touch. "He drove several hours to attend the wake for my brother," marvels Janis Vose, a secretary. Stephen B. Chapman, senior vice-president for international sales, says when he suffered a burst appendix 17 years ago, Jim was concerned that the doctor wasn't doing enough. So he brought in another physician and "saved my life," says Chapman.
In the process, Jim created a lifelong employee. Chapman has been told "I could write my own ticket" elsewhere, he says. But, his voice cracking as he recalls what Jim did for him, Chapman isn't interested. "Most of the time I won't even listen to the offers," he says. Working at Chesterton "is much more than a job to these people," observes headhunter Tom Lampl. "[I] can't recruit anybody out of there."
Dwight Bertozzi, now general manager of the packing division, was transferred to Ireland several years ago and showered with "unending hospitality. They didn't know me from Adam," he says, yet they treated him "as part of the family."
Spouses are loyal, too. Natalie Bouffier, wife of Chesterton's Mexico City general manager, isn't on the payroll. But after hearing employees grouse about the lousy food at the plant, she developed a menu, then cooked and served the food to the 120 workers until a staff could be trained.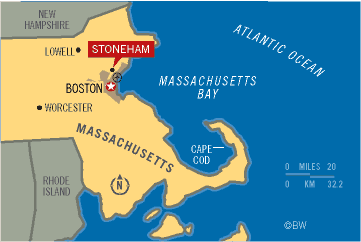 Such dedication gives Chesterton an edge in a business where service counts. Last April, the company got word that seals on two of four Chesterton pumps used to supply water on the USS John F. Kennedy had failed, just two days before it was due to sail. With the Navy unwilling to delay departure, the 5,000-person crew faced emergency water rationing. Todd Robinson, leader of the team that builds the seals, got a call at 10:30 p.m. on Saturday. He and his fiancee, another Chesterton employee, worked through the night to hand-assemble new seals. They reached the ship in time to be installed. Says Robinson: "It was just one of the ways I'd like to pay back Chesterton for all they have done for me."
In the long run, that attitude may be Chesterton's biggest competitive weapon. Boise Cascade Corp. recently picked Chesterton to be its sole supplier of mechanical seals, because by being so responsive, "they provide the best value in the industry," says Jim Lyman, a maintenance supervisor. In Corporate America, it seems, the good guys can still win.
Before it's here, it's on the Bloomberg Terminal.
LEARN MORE