Wavephore Pops Up In Windows 98
By
Unlike Yahoo! Lycos, Netscape, and America Online, some Internet stocks have not gone through the roof. One that may be underappreciated is WavePhore (WAVO), a developer of low-cost, high-speed systems for distributing data over existing TV, radio, satellite, and Internet infrastructures. Microsoft started buying shares in November, 1997, and now owns 632,000 shares, or some 3.5%. Intel owns 2.45%.
One of WavePhore's software products, called WaveTop, uses TV signals to deliver programming to home PCs and TVs, explains Joel Krasner of New York's First Albany. Microsoft has incorporated WaveTop as one of the icons on the screen of Windows 98. As Win98 becomes more widely used, so will WaveTop. Sales of Win98 hit 530,000 units in its first weekend. This shows "considerable pent-up demand for Windows 98," says Krasner. WavePhore's deal with CompUSA to promote WaveTop in its stores will boost sales.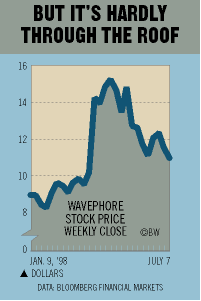 Krasner expects that Microsoft will increase its stake in WavePhore, since Bill Gates likes to have a bigger say in companies he invests in, says Krasner. He sees Wave-Phore turning a profit in 1999, earning $1.1 million, or 5 cents a share. WaveTop alone, he says, will generate sales of $23 million next year. By 2000, WaveTop sales should hit $35 million, figures Krasner, which will help WavePhore earn $5 million, or 25 cents a share. Now trading at 11 a share, the stock should hit 20 in 12 months, says Krasner, as WavePhore's Internet business gets more visibility.