U.S.: Was That A Speed Bump Or Something Bigger?
The slowdown is real, but its staying power is hard to gauge
by
How weak was second-quarter economic growth? Based on data so far, the economy's performance last quarter was the poorest in a long time, with a growth rate of probably less than 2%. In fact, given some not far-fetched assumptions about key components, such as inventories and foreign trade, a case can be made that growth was zero. The key question, however, is: Was the second-quarter slowdown the start of a lasting downshift that will extend through yearend?
Most economists believe that it is. On average, the 50 forecasters surveyed by Blue Chip Economic Indicators look for growth in real gross domestic product of 2% in the second quarter, and they expect the economy to rise by 2.2% in the third quarter and 2.5% in the fourth. The economists are betting that the Asian crisis will continually widen the trade deficit and create the need for an inventory adjustment that will last until yearend. The expected cooler pace would follow six quarters of growth that averaged a scorching 4.1%, the strongest such period since the mid-1980s.
But will it work out that way? The Asian recession has created not one but two dichotomies in the U.S. economy that are muddying the analytical waters. First is the dichotomy between weakening foreign demand and persistently robust domestic spending. Second is the related split between the trade-sensitive goods-producing sector and services, which are far more immune to the Asian flu.
The negative impact from Asia on U.S. trade and manufacturing is undeniable. But on balance, there is still little, if any, evidence that those shocks are migrating to domestic demand and the service sector. Keep in mind that services account for more than half of GDP, 80% of nonfarm jobs, and 70% of the core consumer price index, excluding energy and food. Any lasting slowdown in the overall economy will have to be broader than the one last quarter.
THE JUNE EMPLOYMENT REPORT illustrates the opposing forces underlying the second quarter's softness (chart). Overall hours worked by nonfarm employees rose at an annual rate of 0.8% last quarter, a steep dropoff from recent quarters. Total hours worked are a good proxy for overall economic activity, but what really happened last quarter was that hours worked in factories plunged at a 4.1% annual rate, while work time in services rose at a healthy 2.4% pace.
The weakness in manufacturing shows up in shrinking payrolls and a shorter workweek. Factory jobs fell 29,000 in June, after a 22,000 loss in May. Factory payrolls have fallen in four of the past five months, and the workweek stayed at 41.8 hours in June, after hitting a record of 42.2 hours in December.
The strike at General Motors Corp. and its secondary consequences will further cloud the view of Asia's effect on the economy this summer, because the strike will show up in a variety of data, including employment, industrial production, purchasing managers' surveys, unemployment claims, and eventually car sales as stocks dwindle. The June data were only marginally affected, but the July reports will show the full brunt, including losses of more than 150,000 jobs.
SERVICE-SECTOR PAYROLLS, however, are surviving the Asian mess largely unscathed. Despite the manufacturing job losses, overall June jobs still rose a solid 205,000, led by a gain in service-sector employment of 215,000. In the first half of 1998, monthly increases in service jobs averaged 227,000, only slightly less than the 244,000 a month in the second half of 1997.
The bifurcation between goods and services is especially clear in recent patterns of wages and prices. While annual wage growth in manufacturing has fluctuated between 2.5% and 3.5% for the past four years, pay gains in the service sector have gone straight up, from 2.5% in 1994 to 4.8% in the second quarter (chart). That is the fastest clip in 15 years, and far in excess of possible productivity gains. As for consumer prices: Excluding the ups and downs caused by energy and food, core inflation for goods remains barely above zero, but core service inflation, already at 3.1%, is showing signs of turning up.
In addition, overall job growth at June's pace is still fast enough to keep labor markets extremely tight and wages growing even faster. That's especially true now that the labor force is growing more slowly than it had been, because the U.S. is starting to run out of job seekers. In the first half of 1998, the labor force grew at an annual rate of only 0.4%, the slowest pace in any half-year period in nearly three years. The unemployment rate rose to 4.5% in June from a 28-year low of 4.3% in April and May, but unless either labor-force growth picks up or employment growth slows, the jobless rate will head back down again in coming months.
THE SERVICE-LED STRENGTH in job growth and pay gains, along with very accommodating financial conditions, have underpinned domestic demand. Chief among the financial pluses is the ongoing decline in long-term interest rates to a new low in early July of 5.57% for the 30-year Treasury bond, not to mention the steady strength in stock prices. Early in the second half, these supports look as firm as ever, which is a key argument against a lasting slowdown.
For example, June car sales came on like gangbusters (chart). Sales of domestic and imported cars and light trucks hit a 16.7 million annual rate, even higher than the 16.4 million pace in May that most analysts had deemed unsustainable. To be sure, third-quarter buying will fall back, especially in July, if only because of a lack of GM cars, but also because incentive programs, which helped demand, ended on July 1. Still, first-half sales far exceeded industry expectations.
The Federal Reserve Board, especially, is hoping the second-quarter slowdown is not temporary. The Fed cautiously left interest rates unchanged at its May 19 meeting, according to recently released minutes, and again at its June 30-July 1 confab.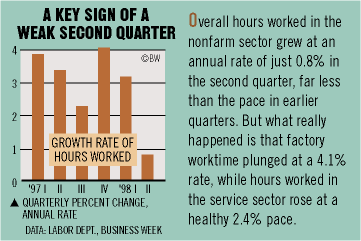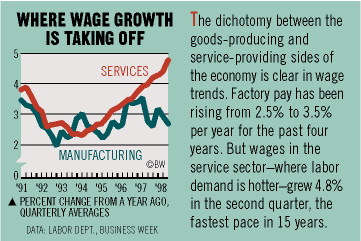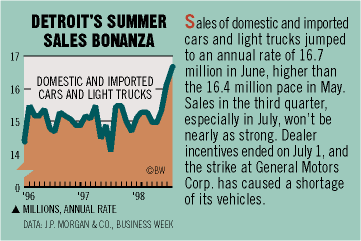 According to the May minutes, two policymakers voted against the decision, while others said the status-quo choice was a "close call." Asia was the key. Policymakers said that raising U.S. rates would threaten the stability of Asia's financial markets. However, the minutes also showed that many of the central bankers emphasized that such "market considerations could not be allowed to jeopardize effective conduct of U.S. monetary policy."
What is becoming clear is that strong domestic demand and a solid service sector are generating wage and price pressures that are being masked by the Asian impact on exports and manufacturing. If the second-quarter lull is lasting, those pressures will abate. But if growth picks up again, the Fed will face some very tough choices by yearend.
Before it's here, it's on the Bloomberg Terminal.
LEARN MORE