Sewing Up A Storm South Of The Rio Grande
Mexico grabs the lead from China in textile exports to the U.S.
Elisabeth Malkin
At the Canatex garment plant in the scrub-topped hills an hour north of Mexico City, hundreds of seamstresses sew cotton knit shirts for U.S. apparel manufacturers Tommy Hilfiger and Phillips Van Heusen. Near the plant, construction is under way on a new dyeing and finishing factory, to be equipped with machinery bought from a shuttered U.S. plant. Next on the agenda of Canatex President Simon Cheng: a state-of-the-art plant to weave fabric--to replace imports from the Far East and the U.S. "We have to control our own destiny," he says.
Cheng's ambitious plans are just one sign of dramatic changes in Mexico's fast-developing garment industry. For the first time, Mexico this year overtook China as the No.1 supplier of clothing and textiles to the U.S. In the first three months of 1998 alone, Mexico sent $1.6 billion in garments to the U.S., up 33% from last year. Altogether, exports of apparel and textiles could total as much as $9.6 billion this year (chart).
Spurred by the North American Free Trade Agreement (NAFTA), the surge in apparel exports has touched off an investment boom. Not only are manufacturers expanding their low-wage plants, but they are building high-tech operations to spin fibers and weave fabrics. The National Textile Industry Chamber estimates that at least $1.2 billion will be spent in the next two years to modernize mills and build new ones.
The result is likely to be a far more sophisticated Mexican industry--stretching from the production of basic fibers to designer tailoring. "I see Mexico becoming the Hong Kong of Central and South America," says David Greene, a consultant for Integrated Technical Services, a Miami-based consulting firm. Although the U.S. may lose some textile jobs to Mexico, far more of the clothing sold in North America will be produced in the hemisphere, rather than in Asia.
To encourage the growth of the industry, Mexico is trumpeting both its proximity to the U.S. and the benefits of NAFTA to potential investors. "We want to develop the whole textile and garment chain," says Jaime Farell Campos, promotion manager for the industry at Mexico's export development bank, Bancomext. Although Mexican garment workers start at about $6 a day--double their Chinese counterparts--manufacturers save on the three-to-four week shipping time from the Far East. Mexican garments are trucked to the U.S. border in two to three days--a crucial difference in the time-sensitive garment business. And NAFTA has eliminated import quotas on Mexican-made garments shipped to the U.S.
REVVED UP. Asian investors have been particularly responsive to the government's campaign as they look for ways to keep their share of the U.S. market. A recent trade fair hosted by Bancomext drew 40 Asian textile and garment manufacturers in Guadalajara. Investors include Yangtze River United Economic Development (Nanjing) Co., which plans to set up a cotton-fiber plant in the western state of Culiacan. And Taiwan's Nien Hsing is spending $118 million for a factory to make denim fabric and garments.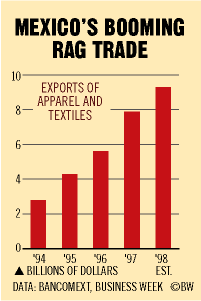 Meanwhile, several U.S. producers are building new mills in Mexico rather than expand at home. Guilford Mills Inc., a Greensboro (N.C.) manufacturer, is spending $100 million on a knitting, dyeing, and finishing plant in the Gulf Coast port of Altamira. Burlington Industries Inc. is pumping $200 million into two fabric plants, along with a joint venture to make cotton yarn. And DuPont Mexico--with its local partner, Alpek--is spending $450 million to expand its nylon operations and build a new polyester plant. "Producing the fabric here is the next step," says Horacio Ojeda, head of business planning for DuPont Mexico's fibers division.
As the foreign-owned companies rev up their export machines in Mexico, savvy local producers are making sure they win, too. Denim producer Compania Industrial de Parras expects to boost its exports to $146 million this year, up 13 times since the start of NAFTA in 1994. It all signals a new era for the Mexican industry--and shows how NAFTA is reshaping North America's economy.
Before it's here, it's on the Bloomberg Terminal.
LEARN MORE