Rip Roaring Earnings At Tyco
by
In picking stocks, John Davenport, chief investment officer at Mentor Investment Group, takes the high road: He looks for bargains only among companies with market caps of $16 billion to $26 billion and earnings growing at 15% a year.
So Davenport is staking a claim in Tyco International (TYC), a global conglomerate that has been busy acquiring other companies. (Tyco was last featured in this column on Mar. 14, 1994, when the stock was at 13, adjusted for splits.)
"It's hard to ignore Tyco, for several reasons," says Davenport. Its earnings are growing twice as fast as Microsoft's: Tyco's results should be up 50% this year and 40% the next, he notes. And with its latest buys (the most recent was U.S. Surgical), Tyco's revenues about match 3M's. Yet the stock, now at 63, has a p-e ratio of just 21, based on estimated (calendar) 1999 earnings of $3 a share, compared with a 23 p-e for the S&P 500. Tyco is expected to earn $2.10 in calendar 1998. Tyco's fiscal year ends Sept. 30.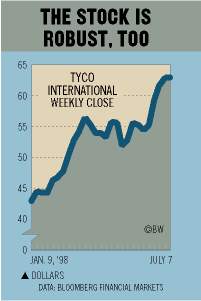 So he expects the stock will rise to 80 a share in a year, upping the p-e to 26. Davenport gives credit to Tyco management, led by CEO Dennis Kozlowski--who, he notes, has assembled a string of businesses with strong growth potential: With the help of acquisitions, Tyco sales have surged from $2.8 billion in 1992, when Kozlowski took over, to an estimated $12.5 billion this year and $16.5 billion in 1999.
Tyco, whose businesses include disposable medical products, undersea cables, and fire-protection and security services, is looking at further buys, says Davenport, that will boost earnings "immediately." Kozlowski says nothing is imminent, "but we're eyeing a number of companies in our core businesses."
Before it's here, it's on the Bloomberg Terminal.
LEARN MORE