Just For Feet Is Making Tracks
Its "big-box" shoe stores have walked all over rivals
Nicole Harris
Anita Mollica is obsessed with tennis shoes. The mother of two used to spend days scouring stores in Birmingham, Ala., for the perfect pair until she discovered Just For Feet Inc. On a recent visit, Mollica browsed the toddler section for her 2-year-old. Nearby, while rock music blared, a boy practiced his jump shot on the store's half court. "The selection is great, and the kids have a ball," says Mollica.
That's music to the ears of Harold Ruttenberg, Just For Feet's CEO. From a single store 10 years ago, Ruttenberg has built the fastest-growing athletic-shoe retailer, averaging 104% annual growth since 1994. His "big-box" stores stock 4,000-odd styles--10 times as many as most rivals. Combining choice, service, and entertaining promotions, Ruttenberg has doubled his share of the $12.4 billion U.S. athletic-shoe market in the past two years, to 4%, according to analyst Marcia L. Aaron of BT Alex. Brown Inc.
As industry giants such as Ventacor's Foot Locker struggle with management problems and outdated merchandise, Just For Feet has bucked a four-year, 23% decline in industry sales to hit a record $479 million in revenue in 1997. "They've revolutionized this industry," says Renny Smith, managing director of Thomas H. Lee Co. Smith's buyout firm recently sold its Sneaker Stadium Inc. chain to Ruttenberg and now holds 1.8 million shares of Just For Feet. Aaron expects the 293-store chain to earn $54.4 million this year, up from $34.3 million in 1997. She thinks sales will jump 43% in 1998, to $682.5 million.
The stock has not had as smooth a climb. A move last year into smaller stores worried Wall Street and combined with industrywide weakness to depress the shares from 31 in January, 1997, to 12 1/2 last August. A change in accounting on store-opening expenses--from an aggressive 12-month write-off period to a more conservative practice of taking all charges at the time of the opening--forced the company to restate earnings. That didn't help the stock, either. Steady results since have aided the shares' climb back to a recent 29.
BOOTING UP. Just For Feet's advantage is its speed in recognizing shifts in taste. In 1996, when shoemakers offered a daunting number of styles linked to the Olympics, Just For Feet stocked the widest selection. The next year, when hiking boots hit big, most sneaker chains lost out. But Just For Feet had only to stock up its existing boot selection.
A typical Just For Feet store is 15,000 to 25,000 sq. ft. Mall-based rivals such as Foot Locker and Footaction USA Inc. average 4,000 to 6,000. Such size lets Just For Feet buy in bulk and negotiate discounts, Ruttenberg says, of 15% to 20%. That is passed on to customers in each store's Combat Zone, where discounts can reach 70%.
To humanize his big spaces, the CEO has designed stores-within-a-store--booths filled exclusively with one maker's apparel and footwear. At the Las Vegas store, goods from Nike Inc. are housed beneath a video wall broadcasting the brand's commercials. Elsewhere, Timberland boots climb a mock waterfall. "In-store presence like that is just as important an asset to us as an athlete endorsement," says Bill M. Sweeney, senior vice-president and general manager of Reebok International Ltd.'s North America division.
Ruttenberg doesn't stop with selection. He spends hundreds of thousands of dollars a year training his staff. Managers must graduate from Just For Feet University, a three-week program that includes everything from foot anatomy to setting up store displays. A $750,000 two-way satellite system lets manufacturers such as New Balance Athletic Shoe Inc. beam training tutorials to Just For Feet salespeople. New Balance, which offers an average of four different widths per sneaker--compared with one at Nike Inc.--says training was a big factor in boosting the brand, No.6 nationally, to the No.3 seller at Just For Feet.
Selection and training have helped the chain outpace the competition. According to analyst David G. Magee of Robinson-Humphrey Co., an Atlanta investment bank, Just For Feet store sales average $650 per sq. ft., more than twice the $250 that mall stores average. But there have been challenges: A sharp growth in inventory was a problem until Just For Feet installed information systems to help bring the stock level down. It fell 22%, from $152 per sq. ft. in 1996 to $119 in 1997.
"A MIRACLE." Ruttenberg says he works by trial and error. Plenty of ideas have vanished like out-of-style sneakers. Gone are the in-store nursery ("Too busy for it," says Ruttenberg) and a $100,000 drive-through window. "Things weren't well planned in the beginning," he says. "When I look back on it, it was just pure luck and a miracle that it worked."
A South African native who started by selling Levi's jeans out of his car, Ruttenberg came to the U.S. in 1977 at the age of 34 with only $30,000. He opened a sportswear store in a mall a few years later, but after five years couldn't afford the rent. That's when he built a 10,000-sq.-ft. store right outside the mall stocked only with his best-seller: athletic shoes.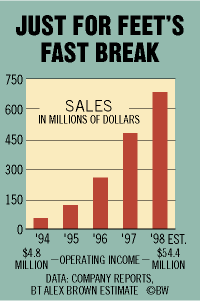 After a decade following this successful model, Ruttenberg is heading back to the mall. In 1997, he bought two regional chains, adding 86 smaller stores. Called Athletic Attic, these stores maintain many of Ruttenberg's big-box traits--including a smart staff, the store-within-a-store pattern, and a generous stock of 1,500 styles. Located in strip malls, they are meant to open up regional markets but avoid intra-mall competition.
Analysts expect the mall-based stores, starting from a small base, to grow twice as fast as big boxes this year. "I get accused all the time of being too risky," says Ruttenberg, "but you have to take risks in this business in order to succeed." So far, the risks are paying a nice premium.
Before it's here, it's on the Bloomberg Terminal.
LEARN MORE