Brazil: Walking An Interest Rate High Wire
By
The crises in Asia and Russia have again raised questions about whether Brazil can support its currency, the real, and sustain its four-year-old stability plan.
The short-term outlook looks positive. Since the Central Bank doubled interest rates to 43% in response to the first Asian scare last October, hard currency reserves have soared from $52 billion to $72 billion. And the current account deficit, though still worrisome, should drop below 4% of the gross domestic product in 1998, from 4.2% last year.
But Brazil's longer-term picture is cloudier. Since late November, interest rates have been gradually cut, to 21% now. But the nominal fiscal deficit, at a hefty 6.5% of GDP, means that further rate cuts will be minimal. Real GDP grew just 1.1% in the first quarter from a year ago and is expected to rise about 1% the entire year. High interest rates could hold 1999 GDP growth to just 2%.
Unemployment is another growing concern (chart). The jobless rate hit 8.2% in May, up from 7.9% in April, and it would be considerably higher if the millions of workers in the informal economy were counted. The spike in interest rates late last year has aggravated the problem, but most of the unemployment is structural: Companies forced to compete in Brazil's opening economy are firing thousands of employees. Joblessness is hurting President Fernando Henrique Cardoso in the polls, though he is still expected to win reelection in October.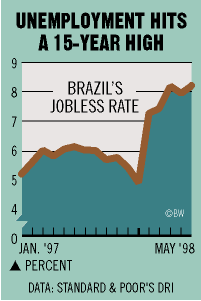 Cardoso also must manage an increasingly delicate debt situation. About one quarter of Brazil's $265 billion in domestic debt expires in the next three months. The government has accelerated the rate at which it issues dollar-linked paper to roll over maturing debt. But that tactic has raised some eyebrows among economists, since the move exposes Brazil's outstanding debt to potential changes in the currency and overnight interest rates. That risk makes investor confidence crucial. To keep it, Brazil will have to keep currency reserves--as well as interest rates--high.