A Yellow Warning For Banks
This crazy lending can't last, the Fed says
Gary Silverman
A year ago, bankers were whooping it up. Competitive and confident, lenders were taking increasing risks, whether it came to pricing loans or setting terms. Indeed, the only thing bankers seemed to fear was missing the chance to join in on the fun--as the corporate loan-syndication market broke $1 trillion.
Now, the mood is shifting. While no one is suggesting that the good times are gone, there is distinctly less exuberance. In Washington, regulators are growing more critical of bank lending standards. The latest caution flag was waved by the Federal Reserve, which on June 30 issued a public warning about a deterioration in commercial-loan underwriting and a possibly troublesome concentration of lending to real estate investment trusts.
And it won't end there. Julie L. Williams, acting Comptroller of the Currency, told BUSINESS WEEK that she will unveil "new initiatives" on July 13 in Chicago to improve commercial and consumer lending standards. "It is time to ratchet up" oversight, Williams says.
"A FIRMER TONE." Will the warnings do the trick? Loan-pricing data suggest that bankers already may be pulling back from the race to arrange loans at any price, a strategy employed in hopes of selling borrowers other products. Loan spreads--the premium that corporate customers pay relative to the most popular interbank lending rate, LIBOR--are rising after years of declines. Loss-leader strategies are also losing favor. "Smart banks are looking at returns on all of their assets, including loans," says Caroline Shapiro, a vice-president in the loan syndication group at J.P. Morgan & Co.
In addition, a key group of lenders is missing in action. Japanese banks have retreated from loan syndications as they contend with problems at home, easing competition for business. "Their backing away has tended to put a firmer tone under the entire market," says Robert S. Strong, chief credit officer at Chase Manhattan Corp.
In the second quarter alone, spreads on loans to companies with near-investment-grade credit ratings widened 24 basis points to 95.5, their highest levels in four years, according to Loan Pricing Corp., a New York firm that tracks syndications. Up-front fees are also being attached to loans more often. "We have seen clear evidence that a reversal--that is, not only a bottoming out, but a firming of pricing--has taken place," says Arthur P. Davis III, Loan Pricing Corp.'s president. "Until recently, the pricing was particularly worrisome. There was basically no money to be made in lending to certain categories of borrowers."
Still, the banks have a ways to go before they reverse the excesses of the past several years. Between 1992 and 1997, the fees banks charge top quality corporate borrowers for some types of backup credit fell 70%, to roughly 6 basis points. "There is not enough juice in that fee to pay the banker and the analysts and everyone else involved," Davis says. Even this year, utility holdings company Edison International of Rosemead, Calif., renewed a deal to pay about 4 basis points for backup lines of credit totaling roughly $3 billion.
The Fed's fear is that even if they pull back now, banks have left themselves vulnerable. After comparing commercial and industrial loans made in late 1995 and late 1997, the Fed concluded that banks were dropping prices--as well as the terms that would help them recover collateral. At the same time, the Fed worried that by lending so much to REITs, banks could be hit if a real estate downturn limited the ability of REITs to tap public markets to repay bank borrowings.
In all, the Fed found a surprising lack of concern about the future. Although banks were lending at longer maturities, only 20% to 30% of loan-approval documents that the Fed reviewed included a formal projection of a borrower's future performance.
The banks, of course, have heard it all before--even as they piled up record profits. The Fed and the Office of the Comptroller of the Currency have warned about underwriting since 1995. But the regulatory heat is growing. In February, Eugene A. Ludwig, then Comptroller of the Currency, sounded an alarm about "too much money in the banking system chasing too few deals." The Federal Deposit Insurance Corp. later said more banks were loosening lending standards than tightening them.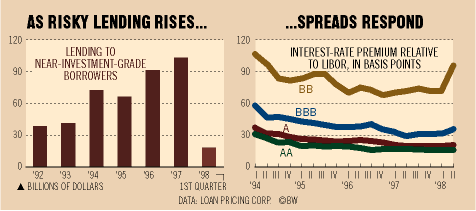 Indeed, Williams says that for every promising development on the credit front, there seems to be a new worry. For example, banks seem to be tightening standards for credit cards. But lenders are loosening them for home-equity loans, which are often used to consolidate credit-card debt--enabling consumers to charge away. So while consumer debt levels rose only slightly in May, the volume of bank home-equity loans outstanding rose 9% over the previous year, to $98 billion. "There may be some indicators that are promising," says Williams. "But it's really too soon to draw any conclusions."
It also may be too late to do much about easy underwriting should the economy falter. "Anytime the regulators can document something, the bankers are well into the process," says Charles Peabody, banking analyst at Mitchell Securities Inc. "If we happen to have a downturn tomorrow, it's too late."
Before it's here, it's on the Bloomberg Terminal.
LEARN MORE