Wiztec Sends Out Strong Signals
by
The stock of Wiztec Solutions (WIZTF), whose chief software product is named Wizard, hasn't been a super whiz. Not yet, anyway, says one New York money manager who started accumulating stock when it sagged 25% to around 9 in early February. The stock has edged up to more than 11 on June 30. He thinks the price is set to take off.
Wizard software, already in use in the U.S. and 13 other countries, incorporates billing systems for the cable TV, pay TV, and digital broadcast satellite industries. Using seven languages, Wizard is in 100 such operations worldwide.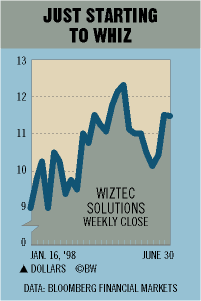 The money manager thinks Wiztec will draw attention as it signs up more high-profile customers. Current customers include Bell Atlantic and Deutsche Telekom. It has formed a pact with Cincinnati Bell Information Systems (CBIS), which has acquired a 20% stake in Wiztec. Apart from Cincinnati Bell, Formula Systems, an information-technology company, owns 43%. As part of its purchase of a 20% stake, CBIS has the option to buy much of Formula's stake, to give it a 51% ownership. Meanwhile, Wiztec is talking with other Baby Bells and cable providers, including Time Warner, for more strategic alliances.
Vivek Rao, technology maven at New York investment firm Gruntal, is high on Wiztec: "As it gains increased visibility in its markets--and from its 30% growth rate--Wiztec will catch the eye of the big institutions," he says. Rao says the company is starting to see a pickup in business.
Rao figures revenues will jump by 40%, to $16.9 million, this year and by a further 45.9%, to $24.6 million, in 1999. And he projects profits will grow 38.2%, to 47 cents a share, in 1998 and 34%, to 63 cents, in 1999.
Before it's here, it's on the Bloomberg Terminal.
LEARN MORE