Where Music Sets The Tempo
William Echikson
Juho Ristola, 18, is built like an NFL offensive lineman. After school, the Finnish teenager speeds around the ice rink or barrels around go-cart racetracks. But in the evenings, he relaxes by composing music. "Writing and playing music are my real passions," says Ristola, who attends a special music high school. He hopes to become a musician or even a composer.
This dream is not unusual in Finland, where music and sports battle for primacy in the national soul. As often as not, music wins. The country of 5 million turns out a disproportionate number of composers, conductors, singers, and instrumentalists. They include Los Angeles Philharmonic Orchestra conductor Esa-Pekka Salonen, composer Magnus Lindberg, and opera singer Matti Salminen. Even Finland's latest Playboy pinup, Linda Brava, is a concert violinist.
So it's little wonder that when the harsh winter ends, Finland warms up to the tune of some 40 music festivals, held from June through August. "For Finns, summer means music," says Pekka Hako, executive director of the Finnish Music Information Center. Jazz concerts brighten the quaint port of Pori, big-band numbers soothe the rugged town of Imatra, and the medieval fortress on an island near Savonlinna hosts one of the world's great opera festivals.
But music also means money. Finland plunged into recession in the early 1990s, and despite an improvement, public spending is tight. In this highly taxed nation, private donations are rare, and "we lack rich widows in this country," laments John Eric Westo, the National Opera's administrative director. So music entrepreneurs these days rely on belt-tightening and the private sector.
The new Finnish National Opera House in Helsinki is one of many institutions that had to make changes. A shimmery glass-and-marble structure completed in 1994, it replaced a century-old, 550-seat Russian-built theater. Taxes and lottery receipts financed construction of the 1,350-seat, $140 million showplace, but the government failed to increase its funding for operations.
The sale of tickets covers only an eighth of the National Opera's $40 million operating budget. Prices--the best seat costs $60--can't be raised because that would price many Finns out of the market and bring charges of elitism. So Westo has cut costs--to the point where he no longer can afford to engage the best-known Finnish opera singers, such as Salminen, who now works almost entirely outside of the country. Instead of high-priced stars, Westo relies on ensemble singing and strong staging.
WHATEVER IT TAKES. The opera has added 20 performances, bringing in an extra $1 million. And Westo has signed up 50 corporate sponsors, who pay a total of $5 million. Tapping business is nothing new in the U.S., but it is in Finland. "We didn't have any corporate sponsors a decade ago," Westo says. Sampo Insurance Corp. gave $320,000 this year, and in return, it's mentioned in opera promotions, gets the best seats in the house, and can have entire performances arranged for customers. "We'll do whatever the sponsor wants," Westo says. How about private dinners with opera singers serenading guests? "No problem," he says.
At the Savonlinna Festival, the government underwrites just $500,000 of the $6 million cost. So the private sector is stepping in again, giving about $1 million, up from nothing five years ago. Mobile-phone giant Nokia is one of four major sponsors. "It's nice to be able to take customers to Savonlinna and show off the best of Finland," says Nokia's Lauri Kivenen, who is responsible for sponsorship programs.
Music is such a priority here that the government has cut health-care and unemployment benefits rather than make more music cuts. The Finns view music as vital to the national psyche. Music was one of the few ways Finns could express their longing for freedom under 19th century Russian rule. The national epic, the Kalevala, an oral history of the tribes that came from central Asia and settled in this land, traditionally was sung, not spoken. Finnish composer Jean Sibelius drew on it for many of his symphonies. Modern Finnish operas still deal with historical themes. Aulis Sallinen's 1978 The Red Line, set during Finland's first general election in 1907, tells the story of a poverty-stricken crofter who draws a red line on the ballot for social democracy.
The government continues to underwrite 150 music schools, 11 conservatories, and 30 orchestras. "There are even music nursery schools for 3-year-olds," says Hako of the Music Information Center. The schools encourage music as a career--and one with security in a country of 15% unemployment. Sanna Akkanen, a 21-year-old singer who will graduate from the Sibelius Academy in Helsinki next year, knows that if she can't make it in the concert field, she can always find a job teaching music.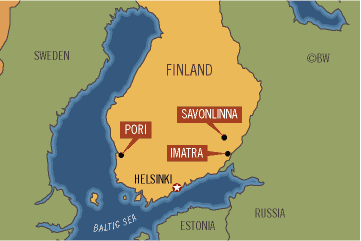 GUITAR TALK. Others, such as Ristola, may indeed become composers, since the National Opera commissions works from young composers to a degree unheard of elsewhere. Juha Koskinen, a baby-faced 25-year-old with long blond hair, is writing his third opera. The first two were performed in the Opera House and on Finnish National Radio. He is one of 25 composers who receives a monthly tax-free government stipend. His Italian wife, also a composer, is not so lucky. "In Italy, young composers have to work as waiters to make ends meet," her husband says.
This summer, Ristola will play at the Imatra Big Band Festival. The Finns are a reticent people, and Ristola doesn't talk much, especially about his feelings. Asked about his dreams, Ristola shrugs and replies in a typical Finnish way: He picks up his guitar and begins to play.
Before it's here, it's on the Bloomberg Terminal.
LEARN MORE