U.S.: Consumers Are All Smiles And Open Wallets
Rock-solid fundamentals explain why they are spending with such gusto
by
An important economic lesson can be drawn from the recent government report that more than half of American adults are overweight: U.S. consumers have trouble exercising restraint, whether it's at the dinner table or the shopping mall. That's why the popular forecast of an immaculate slowdown just doesn't add up. Consumers, the major force of this economy of late, will not ease back until some constraint compels them to rethink their buying plans.
To be sure, monthly data so far indicate that second-quarter economic growth struggled to reach 2%. However, domestic demand continued to charge ahead, led by consumers and homebuilding (charts). The apparently sharp slowing in overall growth from 5.4% in the first quarter was caused by two factors other than domestic demand: an Asian-led widening in the trade deficit and a slowdown in inventory growth.
Second-half growth could very well pop back up to above 3%, mainly because consumers show no sign of taking a break. From the end of 1996 to the first quarter of 1998, household buying surged at a 4% annual rate. And the latest reports on spending and new-home sales suggest that the second-quarter pace showed no drop-off from that trend.
While retailers and homebuilders are cheering this recent torrent of consumer spending, the trend could set up a problem in the second half. That's because consumers must back off in some significant and lasting way if the economy as a whole is to slow down. Without that downshift, the labor markets will continue to tighten, and inflation will creep higher.
WHY ARE HOUSEHOLDS shopping with such gusto? Rock-solid fundamentals. Healthy job growth has trimmed the unemployment rate down to a generational low. The tight labor markets and low inflation, in turn, are boosting real wages. In addition, financial conditions have grown increasingly accommodating: Stock prices continue to climb, and interest rates remain very low.
No wonder households are absolutely ecstatic about their economic prospects. The Conference Board's June consumer confidence index rose to 137.6, the highest level in three decades, from 136.3 in May. Consumers' assessments of both current and expected conditions rose in June.
Buying patterns reflect those upbeat attitudes. Real consumer spending, adjusted for inflation, rose 0.4% in May, after increasing 0.2% in April. Those gains put second-quarter outlays on a path to rise at a 4% annual rate, following the first quarter's 6% surge. First-half spending will approach, and possibly exceed, the fastest two-quarter growth rate in a decade.
The key support under spending has been income growth. Job growth so far this year has slowed only a bit from its robust pace in 1997, and wages continue to accelerate. Real aftertax income rose 0.3% in May, after a 0.2% gain in April, and for the second quarter, it is on track to increase at an annual rate of about 3.4%. During the past year, real income has risen 3.8%.
The wealth effect from rising stock prices explains much of the disparity between the 3.8% yearly pace of income and the 4.5% growth rate of consumer spending. Equities now account for about 55% of all household financial assets, the highest proportion in the postwar era, and that ownership is spread across far more households. Higher stock prices, plus more than a full percentage-point drop in long-term interest rates during the past year, have given consumers an additional spending support that is not yet played out.
LOWER INTEREST RATES, as well as the host of other consumer pluses, are especially buoying home sales. Sales of previously owned homes rose 1% in May, to a near-record annual rate of 4.82 million, and May purchases of new homes hit a record. They increased 0.3% from April, to an annual rate of 890,000 (chart). Housing appears to have made a solid contribution to second-quarter economic growth.
Now, it looks as if strong demand may well power homebuilding all the way through the summer. A June survey of builders showed rising sales amid shortages of workers and buildable land, which is starting to push up home prices. The average price of a new home in May rose 8.1% from a year ago, the largest annual rise in a year and a half. Strong demand assures that housing starts have not yet topped out.
FOR THE SECOND QUARTER, two factors offset the consumer dynamo. First, a wider foreign-trade deficit subtracted from real gross domestic product growth, perhaps as much as the 2.7 percentage points it subtracted in the first quarter. Second, inventory accumulation undoubtedly slowed in the second quarter following an unprecedented buildup of $105.7 billion in the winter quarter.
Both are largely related to the Asian crisis, which so far has had its biggest impact on the manufacturing sector. Because of weaker foreign orders, overall bookings are slipping, and factory output has flattened. The downdraft continued in June based on the larger-than-expected decline in the purchasing managers' index.
The purchasers' composite index of industrial activity fell to 49.6% from 51.4% in May (chart). For the first time since July, 1996, the index slipped below 50%, meaning that manufacturing activity is contracting. The component indexes for production and employment fell sharply, while export orders continued to decline. The report said that purchasers gave mixed comments on business conditions, but it added: "Asian concerns still dominate their thoughts."
The Asian financial crisis has given the Federal Reserve some leeway in setting monetary policy because the surging U.S. dollar has made goods inflation almost nonexistent, though service inflation is edging up. The Fed's policy committee held rates steady at its June 30-July 1 meeting. The Fed's next meeting is Aug. 18.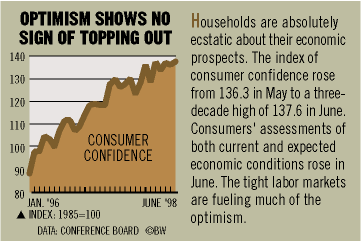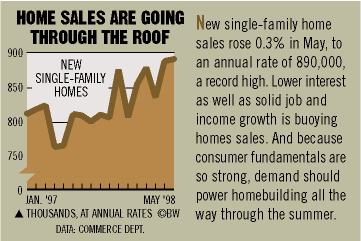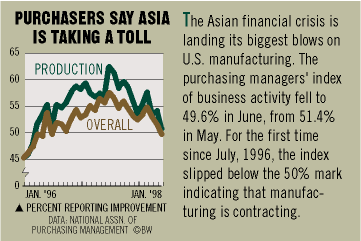 But the Asian crisis, especially in Japan, may become a double-edged sword for the Fed later on if domestic demand does not ease back. Already, core consumer inflation so far in 1998 is running at a faster pace than it did in 1997. If demand stays strong, the Fed might be forced to hike interest rates at a time when such a move could unsettle the currency markets just as they begin to stabilize.
However, simply hoping that demand slows on its own could be a risky strategy for monetary policy. Consumers may not rein in their current spending spree without some prodding. The stick could take one of many forms: a stock market correction, an Asian-influenced slowdown in employment, or higher interest rates. Unless households exercise some restraint, inflation may sneak into the economy as insidiously as a few extra pounds can gather around the waistline. Neither result is welcome, and both are hard to shed.
Before it's here, it's on the Bloomberg Terminal.
LEARN MORE