Spain: Cruising Into The Euro Era
by
Spain heads toward the January, 1999, launch of Europe's single currency with one of the fastest-growing economies in the euro area, and its economic performance should remain exceptional in the coming quarters.
In the first quarter, Spain's economy grew 3.7% from a year ago, the fastest annual clip in nearly eight years and well above the 3.1% euro-area average. In fact, Spain will outperform Europe for the second year in a row. After growing 3.4% in 1997, the government has revised its 1998 growth forecast to 3.7%, from 3.4%, and many private forecasters are doing the same. May inflation stood at 2%, interest rates are at record lows, and the public-sector deficit is set to equal about 2.5% of gross domestic product both this year and next.
The power behind growth is domestic demand, reflecting strong job growth and steep interest-rate cuts. Short-term policy rates are 4 1/4%, down from 6 1/4% in early 1997 and 9 1/4% in late 1995. Consumer spending, especially for big-ticket items, and homebuilding are leading the gains. Consumer confidence is at a new high, mainly because annual job growth has accelerated to 3.6% in April. Job gains in 1998 could exceed 400,000. Although Spanish unemployment, at 19.13%, is still the highest in Europe, that rate is a six-year low.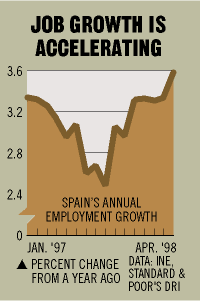 In order to bring Spanish interest rates into line with those in the euro area, at least one more rate cut by the Bank of Spain is expected. The euro convergence rate is likely to be in the 3.5%-to-4% range. The risk that the economy could overheat and push up inflation in 1999 will rise if the convergence rate is 3.5%, but even so, the risk is small. Wage growth continues to slow, and strong business investment is adding to production capacity. Also, the Asian crisis will offset some domestic strength and restrain inflation via lower commodity prices, especially for oil.
For now, strong growth and an expected slight uptick in inflation in coming months will keep the BOS on the sidelines this summer, but look for a rate cut by autumn.
Before it's here, it's on the Bloomberg Terminal.
LEARN MORE