Now, Tennis Balls Are Chasing The Dogs
Penn Racquet Sports courts canine customers
Dennis Berman
Suppose your industry were in free fall. What would you do to find more customers? Would you go global in search of sales? Try the Internet?
How about switching species?
That's the drastic move made by Penn Racquet Sports, the nation's No.1 maker of tennis balls, which is suffering from flat sales and a decade-long lull in recreational tennis. This month, Penn begins marketing its familiar, fuzzy orbs to some undeniably loyal customers: dogs. R.P. Fetchem's is a traditional tennis ball that has been gussied up as a "natural felt fetch toy" for pooches. "Ten times more people own pets than play tennis," explains Penn President Gregg R. Weida, owner of a schnauzer named Jake.
NO DYES. Penn is teaching an old ball new marketing tricks--and hoping to bounce its estimated $70 million in sales up by 5% to 10%. For the benefit of four-legged consumers, Penn has made the balls dye-free. They sport the Ralston Purina Co. logo, thanks to a licensing deal with the dog-food giant. The biggest change is the price: $4 to $5 for a can of two Fetchem's vs. $2.50 for three old-fashioned tennis balls. That hasn't deterred retailers. PetsMart Inc. will test them, ordering 400 cases for its 413 stores. "The fact that it's got the Ralston name and the natural felt are pluses," says Greg Forquer, PetsMart vice-president for merchandising.
But that won't attract more tennis players. For Penn--a small Phoenix-based division of chemical and defense conglomerate GenCorp Inc.--making a move into dog toys may be one indication that tennis shows no imminent signs of a comeback. The game has a base of 5 million hard-core players, but it's losing the weekend whackers, explains Brad Patterson, executive director of the Tennis Industry Assn. Recreational play is down almost 20% over the past decade. Ball sales have dropped 29% since 1991. "Twenty years ago, there was no inline skating, no Blockbuster Video, no home computers," rues Patterson. "It's harder to grab mind share."
Like other ballmakers, Penn has been unable to duck the force of the tennis devolution. Midwest Research analyst Mark E. Koznarek, who follows Penn's parent company GenCorp, forecasts zero growth for Penn and tags the unit a "below-average part of the business" that is ripe for a sell-off.
The dog-toy solution had been kicking around Penn for years. But in 1996, it found a champion in Laura Kurzu, who directs Penn's account at Veritas Advertising, a St. Louis agency. Kurzu had connections at Ralston Purina and was convinced the two should enter into a licensing deal. "I was laughed at from both sides," recalls Kurzu.
"CHEAP." But Penn may get the last chuckle. Tennis may be stalled, but pet-pampering is booming. Human beings will shell out $5.95 a box for doggie pasta and will pay $59.95 for a pet canopy bed. Most important to Penn, they buy toys: Last year, owners lavished $41.7 million on dog toys sold in pet stores, says the Pet Industry Joint Advisory Council (PIJAC).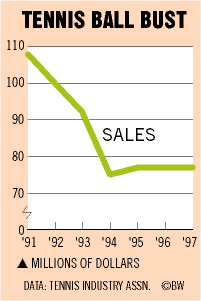 While $5 a can might make tennis players gasp, it's no barrier for dog lovers in search of the perfect treat. "That's cheap," says Jim Sweeney, regional manager in Chicago for Pet Supplies Plus, a 145-store chain. He sells dog toys for as much as $25.99. Sweeney hasn't been pitched by the Penn sales force but predicts he could move 1,000 cans of Fetchem's a month. New York dog owner Joel Katz didn't balk at the Fetchem's price tag. "This guy will do anything for a ball," he said of his cocker spaniel, Max. "He loves them more than food."
But while Penn knows the tennis ball world, it will encounter a pack of new competition in the pet toy business. Indeed, Penn already has a rival. Melia Luxury Pet Products makes six flavors of dog tennis balls, including "zesty orange" and "PB&J" (peanut butter and jelly), and sales are in the "hundreds of thousands," says President David Voldandt. Pet watchers aren't surprised to see more entries. "Everyone and their brother wants to get in," says Geri Mitchell of PIJAC. Fetch, anyone?
Before it's here, it's on the Bloomberg Terminal.
LEARN MORE