Kellstrom Brass Loads Up On Stock
by
Corporate insiders often take advantage of secondary stock offerings to cash in part of their holdings. Not at Kellstrom Industries (KELL), where CEO Zivi Nedivi and Chairman Yoav Stern each purchased $250,000 worth of common shares at the offering price of 26 during the company's recent offering of 2.7 million shares. So far so good: The stock has risen to nearly 29.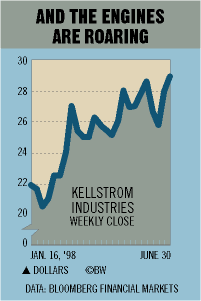 This isn't the first time Nedivi has taken a big bet on Kellstrom, a leading supplier of jet aircraft, engines, and engine parts to 200 customers, including more than 35 major carriers. On Oct. 23, 1995, this column reported that Nedivi had bought $1 million worth of Kellstrom, when the stock was at 5. The stock has since become a huge winner. Nedivi, along with several money managers and analysts, believes the stock will continue to fly.
Analyst Steve Margulies of Brean Murray, a New York investment firm, figures Kellstrom will hit 40 to 45 in 12 months. With the accumulation of additional working capital, says Margulies, Kellstrom has been able to increase its market share. It also has broadened its expertise in almost all types of commercial aviation engines, including Pratt & Whitney, Rolls-Royce, and General Electric's CF6 line. Margulies expects Kellstrom to earn $1.43 this year and $2 in 1999.
Before it's here, it's on the Bloomberg Terminal.
LEARN MORE