Investment Figures Of The Week
COMMENTARY
Wall Street wrapped up the second quarter with small gains for stocks. The Dow
industrials finished up 1.7% and the Standard & Poor's 500, 2.9%. Not much,
but still good considering that just a few weeks ago, many investors thought
stocks would finish the second quarter in the loss column. And on July 1, the
summer quarter got off to a rousing start with the Dow gaining 97 points and
the S&P 500 making a new high of 1148.6. In the last week especially, U.S.
stocks have been helped by higher prices in Asia and the hope that those
battered markets have finally turned around.
STOCKS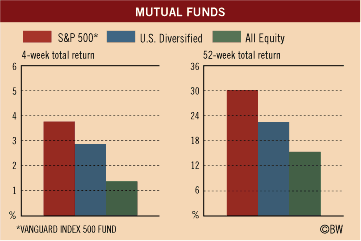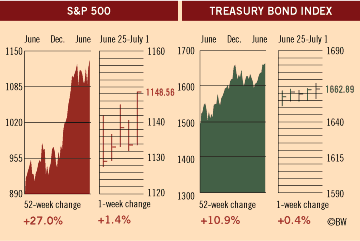 % change
      U.S. MARKETS                    Latest      Week       Year
      Dow Jones Industrials           9048.7      1.4        16.1
      NASDAQ Combined Composite       1914.5      2.0        31.5
      S&P MidCap 400                  365.7       2.3        25.4
      S&P SmallCap 600                192.9       2.2        19.1
      S&P SuperComposite 1500         244.3       1.5        26.6
      Bloomberg Information Age       355.5       0.9        31.6
      
                                                    % change
      SECTORS                       Latest       Week     Year
      S&P Financials                139.1        2.0      34.0
      S&P Utilities                 247.7        1.4      23.4
      PSE Technology                350.0        1.8      20.8
      
                                                   % change
      FOREIGN MARKETS             Latest       Week      Year
      London (FT-SE 100)          5919.9       2.0       24.6
      Frankfurt (DAX)             5906.9       2.2       53.2
      Tokyo (NIKKEI 225)          16,362.9     8.2      -19.0
      Hong Kong (Hang Seng)       8543.1       3.0      -43.8
      Toronto (TSE 300)           7366.9       1.4       12.5
      Mexico City (IPC)           4422.1       1.0       -3.0
      
                                                           Week      Year
      FUNDAMENTALS                           Latest        ago       ago
      S&P 500 Dividend Yield                 1.38%        1.40%     1.82%
      S&P 500 P/E Ratio (Last 12 mos.)       27.1         26.3      22.6
      S&P 500 P/E Ratio (Next 12 mos.)*      21.9         21.7      17.8
      First Call Earnings Revision*         -1.91%       -1.27%     NA
      
                                                           Week
      TECHNICAL INDICATORS                  Latest         ago      Reading
      S&P 500 200-day average               1022.7        1017.5    Positive
      Stocks above 200-day average            48.0%       44.0%     Neutral
      Options: Put/call ratio                 0.50        0.61      Negative
      Insiders: Vickers Sell/buy ratio        2.05        2.18      Neutral
      
      BEST-PERFORMING     Last                                  Last 12
      GROUPS              month%                                months%
      Computer Software    22.6      Specialty Appar. Retailers  108.7
      Communications Equip.18.0      Broadcasting                 95.2
      Broadcasting         15.9      Homebuilding                 82.5
      Homebuilding         14.6      Automobiles                  79.1
      Airlines             14.6      Airlines                     77.3
      
      WORST-PERFORMING    Last                                 Last 12
      GROUPS              month%                               months%
      Machine Tools       -15.5      Metals                      -43.9
      Oil & Gas Drilling  -12.3      Gold Mining                 -27.0
      Specialty Chemicals -8.2       Oil & Gas Drilling          -26.7
      Hospital Management -7.9       Engineering & Constr.       -18.9
      Hotels & Motels     -7.6       Leisure Time                -16.8
      
      BLOOMBERG MONEY FLOW ANALYSIS
      Rebound ahead?  Stocks with most                          1-month
      significant buying on price weakness    Price             change
      Citicorp                                 149 1/4           -3 3/4
      IBM                                      114 13/16         -2 3/8
      AT&T                                     57 1/8            -1 15/16
      J.P. Morgan                              117 1/16          -7
      Bell Atlantic                            45 5/8            -1 11/16
      Mobil                                    76 5/8            -3/4
      
      Decline ahead?  Stocks with most                           1-month
      significant selling on price strength   Price              change
      Intel                                    74 1/8             6  1/8
      WorldCom                                 48 7/16            3
      Microsoft                                108 3/8            24 5/8
      Cisco Systems                            92 1/16            18 1/2
      Dell Computer                            92 13/16           14 1/2
      Qwest Communications Intl.               34 7/8             2  7/8
      
      Data: Bloomberg Financial Markets; *First Call Corp.
      
      INTEREST RATES
                                   Latest      Week      Year
      KEY RATES                     week%      ago%      ago%
      MONEY MARKET FUNDS            5.10       5.09      5.17
      90-DAY TREASURY BILLS         5.09       5.04      5.18
      6-MONTH BANK CDS              5.05       5.06      5.19
      1-YEAR TREASURY BILLS         5.34       5.41      5.64
      10-YEAR TREASURY NOTES        5.43       5.46      6.45
      30-YEAR TREASURY BONDS        5.62       5.66      6.74
      LONG-TERM AA INDUSTRIALS      6.23       6.27      7.22
      LONG-TERM BBB INDUSTRIALS     6.73       6.73      7.61
      LONG-TERM AA TELEPHONES       6.63       6.61      7.47
      
      BLOOMBERG MUNI YIELD EQUIVALENTS
      Taxable equivalent yields on AAA-rated, tax-exempt municipal bonds,
      assuming a 31% federal tax rate.
      
                                 10-yr. bond         30-yr. bond
                                Latest     Last     Latest     Last
                                 week      week      week       week
      GENERAL OBLIGATIONS        4.39%     4.39%     4.95%      4.93%
      PERCENT OF TREASURIES      80.88     80.45     87.99      87.19
      TAXABLE EQUIVALENT         6.36      6.36      7.17       7.14
      INSURED REVENUE BONDS      4.56      4.56      5.18       5.17
      PERCENT OF TREASURIES      84.01     83.57     92.07      91.44
      TAXABLE EQUIVALENT         6.61      6.61      7.51       7.49
      
      MUTUAL FUNDS
      
      EQUITY FUNDS
      Leaders                              Laggards
      Four-week total return         %     Four-week total return         %
      ProFunds UltraOTC Investor   26.7    Lexington Troika Russia     -22.4
      Amerindo Technology D        19.9    Guinness Flgt. Asia Sm. Cap -15.6
      Managers Capital Apprec.     16.9    GMO Emerging Markets III    -14.7
      TCW/DW Mid-Cap Equity A      16.3    Pioneer India C             -14.2
      Potomac OTC Plus             15.9    Newport Tiger Cub B         -12.2
      
      Leaders                              Laggards
      52-week total return          %      52-week total return            %
      United Science & Tech. A     92.9    Matthews Korea I             -69.3
      Transamerica Prem. Ag. Gr.   77.1    Lex. Crosby Sm. Cap Asia     -64.7
      United Income A              72.5    Montgomery Emerg. Asia R     -63.5
      Transamerica Prem. Sm. Co.   72.0    Guinness Flgt. Asia Sm. Cap  -62.7
      Weitz Hickory                62.0    Lex.Troika Dialog Russia     -62.4
      
      EQUITY FUND CATEGORIES
      Leaders                              Laggards
      Four-week total return        %      Four-week total return         %
      Technology                   7.7     Diversified Emerging Mkts.   -7.9
      Communications               7.0     Pacific/Asia ex-Japan        -7.3
      Large-cap Growth             6.6     Precious Metals              -6.6
      Mid-cap Growth               6.2     Latin America                -6.4
      Small-cap Growth             4.7     Natural Resources            -3.6
      
      Leaders                              Laggards
      52-week total return           %     52-week total return            %
      Communications               37.2    Pacific/Asia ex-Japan        -52.9
      Financial                    34.8    Diversified Pacific/Asia     -41.8
      Large-cap Growth             31.1    Precious Metals              -35.7
      Europe                       29.3    Diversified Emerging Mkts.   -33.5
      Large-cap Blend              26.1    Japan                        -26.8
      
      All data are as of market close Wednesday, July 1, 1998, unless otherwise 
      indicated. Industry groups include S&P 500 companies only.  Fundamentals, 
      technical indicators, Bloomberg money flow analysis, and mutual fund returns 
      are as of June 30. For a more detailed explanation, write to us or E-mail 
      figures@businessweek.com.  NA=Not available  **Vanguard Index 500 Fund