Can Nissan Regain Its Youth?
The new focus is on quality and long-term profits instead of U.S. sales volume
Larry Armstrong
As far as Minoru Nakamura is concerned, his job is to create a brand new Nissan for the U.S. It's not a new car he's talking about, either. It's the whole company.
Nakamura, president of $16 billion Nissan North America Inc., knows that it's time for desperate measures. In the year ended Mar. 31, his company's U.S. sales and marketing subsidiary lost $787 million, pulling the struggling Japanese parent back into the red. Worldwide, Nissan Motor Co. lost $105 million on sales of $49.3 billion.
Starting in October, Nakamura pushed aside five top executives and stepped in as head of the U.S. sales arm. Now, he's disbanding the sales company and folding it into Nissan North America. He has pulled the plug on a $200 million brand advertising campaign that spun humorous stories while all but ignoring the cars. He's dropped two sporty but slow-selling coupes from the line. And he has trimmed customer and dealer cash incentives from record levels and ordered Nissan's Smyrna (Tenn.) factory shuttered on Fridays for the rest of the model year to cope with lower sales.
The result? Sales have dropped 28% for the calendar year through May, to 231,146 vehicles, in a market that's slightly up. But it doesn't bother Nakamura. "Nissan has changed from a volume chaser to a profit-oriented company," he says. "Depending on the market, it may be difficult to be profitable this year, but at least we can turn around last year's loss situation." Profits, he says, should follow next year.
ANCIENT GLORY. Analysts say that while the current crisis threatens the very existence of the parent company, it may be the best thing that ever happened to Nissan. They point to similar events at Ford and Chrysler in the '80s and Mercedes-Benz and BMW in the early '90s that caused fundamental changes in culture and attitude that got those companies back on track. "Nissan's back is against the wall, and that will foster change," says Christopher W. Cedergren, managing director of market researcher Nextrend in Thousand Oaks, Calif.
Nissan, in fact, has been struggling to find its way for more than a decade. In the '60s and '70s, the feisty importer, then under the Datsun name, could do no wrong. Every product, from the BMW-like Datsun 510 sedan to the sporty, affordable 240Z sports car, hit a bull's-eye with American buyers. Even the dogs would sell. Once, alerted that three boatloads of mustard yellow B210s with tan interiors were headed their way, American marketers decided to add a black stripe to the side and a stick a bee decal on the trunk. The so-called Honeybee became such a fad in California that Datsun had to reorder more of the ugly cars. By 1975, Datsun had passed Volkswagen to become America's leading importer.
NO VROOM. All that changed in the '80s. In 1981, Tokyo headquarters ordered Datsun to jettison its name and start using the Nissan brand in the U.S. The changeover dragged on for years, with dealers refusing to take down their Datsun signs and cars carrying both brand names. With restrictions on Japanese imports in the early '80s, Nissan could sell everything it shipped. Profits soared, and complacency grew. While Toyota and Honda invested in their U.S. dealers, Nissan took its profits back to Japan. Nissan's U.S. sales, which peaked at 831,000 in 1985, slid for the rest of the decade and didn't begin to recover until 1993.
Nissan's latest problems in the U.S. stem directly from the products it sells--and doesn't sell. For one thing, it has lost its image. Toyota Motor Corp. is known for its unequaled quality, Honda Motor Co. for its slightly hipper, high-quality cars. Nissan used to be known as the sporty Japanese car company, but as the market for sportsters has flagged, it has killed off all of those models: the NX series in '94, the 300ZX in '96, and the 200SX and 240SX this year. There are widespread rumors that Nissan is planning a revival of its 240Z, but Nakamura isn't quite tipping his hand. "Lots of Nissan's image comes from the Z," he says. "The sports car market has shrunk, but I still think we need that sort of product."
In the meantime, the styling and performance of the vehicles it still sells have grown progressively more conservative. "They totally disconnected with what the American consumer is looking for, so the only way to sell cars is to use incentives," says Arthur M. Spinella, an analyst at CNW Marketing/Research Inc. in Bandon, Ore.
Nakamura has put in place a back-to-basics strategy that is aimed at correcting the problems. First off, design authority for virtually every vehicle that carries the Nissan badge in the U.S. has been handed back to Nissan Design International, the company's San Diego studios, from its Tokyo designers.
It's too early to tell whether the new products will move Nissan back into the first tier with Toyota and Honda, but the track record of Gerald P. Hirshberg, NDI's founder and president, is good. NDI's first design, the 1987 Pulsar NX, won Nissan its first-ever Car of the Year award in Japan. The studio's Altima family sedan, introduced in 1992, more than doubled the sales of its predecessor, the Japan-designed Stanza. NDI also designed its first-ever Sentra, Nissan's entry-level sedan, which is coming in 1999. Next fall also will bring an American-designed Maxima that will be sportier than the current version, a collaboration between Japanese and American designers. In April, Nissan will launch a new compact sport-utility vehicle to compete with Toyota's RAV-4 and Honda's CR-V.
As Hirshberg tells it, Nissan lost sight of the American market in the early '90s. With the U.S. market slumping, Nissan focused its designs on Japan. The results are just showing up. Nissan rejected NDI's design for the Pathfinder sport-utility vehicle and went with one aimed at the Japanese market. "It's pretty prissy for a sport ute," says analyst Cedergren; U.S. sales are down 11% from a year ago. The new but style-challenged Frontier compact pickup is an even bigger disaster, with sales off 44% in the first five months this year. "It may be fine for a farmer in Japan, but Americans aren't even considering it," says CNW's Spinella.
FEWER PLATFORMS. Given its U.S. losses, Nissan couldn't wait for next year's new products to kick in. So last fall, Nakamura put a halt to many of the marketing devices Nissan had been using to prop up sales. In 1996, for instance, Nissan started fiddling with leases, driving the monthly payment down by inflating resale values. When the cars started coming back from lease, Nissan couldn't sell them at high enough prices. Its loss last year included a $300 million reserve to cover cars still under lease. Unprofitable sales to rental-car fleets, another way Nissan pushed its volumes up, also have been axed. The result: Annual sales have fallen from the 750,000-to-770,000 range of the mid-1990s to around 650,000 today.
Advertising has also been recast. Gone are the amusing "Enjoy the Ride" ads with cameos by an enigmatic Japanese character and his Jack Russell terrier. In their place are spots featuring the cars and, in some cases, comparisons with the competition.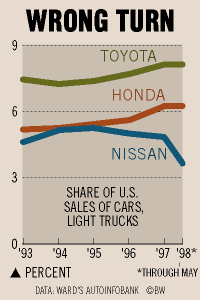 It has been a bitter pill for Nissan to swallow, but the moves in the U.S. are only a small part of more sweeping changes wrought by the parent company. Worldwide, Nissan has posted losses in five of the past six years. When it announced the current loss in May, Nissan said it would cut the number of vehicle platforms it builds, including the Altima, from 25 today to 10 by 2003. It is selling some of its holdings in sister companies to pay off debt that now totals 37% of revenues.
"Drastic action was called for, and, absolutely, there are signs that they're taking it," says Lincoln Merrihew, an analyst at researcher J.D. Power & Associates in Agoura Hills, Calif. Nakamura's overhaul clearly shows that he is setting aside short-term objectives in favor of the long haul. The U.S. auto market is in its fifth year of robust sales, but sooner or later, it will undoubtedly run into roadblocks. Nakamura can only hope that he turns the company around before the ride gets more bumpy.