Basketball's David Stern: This Time, It's Personal
At stake: Not just the health of the NBA and the 1998-99 season but his legacy
Anthony Bianco
If every aspiring athlete wants to "be like Mike," every budding sports-business executive wants to be like Dave. Named commissioner of the National Basketball Assn. in 1984, the year Michael Jordan entered the league, David J. Stern transformed the NBA from a dissolute, money-losing franchise into one of the premier brands in global entertainment. Now Stern, 56, must save it from an altogether more pernicious force: greed.
On June 30, NBA team owners locked out the players for the third time since 1995 after several months of fruitless negotiations over a new labor contract. During the lockout, teams can neither pay, re-sign, or trade players, nor operate basketball facilities. The immediate effect is limited, since most players have been paid for last season and training camps don't open until September. Unlike the other professional sports leagues, the NBA has never lost a game to lockout or strike. But with both sides talking tougher than ever before, that is one NBA record that might soon fall.
"THE BENCHMARK." There were a number of new "player conduct" rules on the table, but the central issue could not be more elementally financial: Owners and players both want to maximize their share of league revenues, which hit a record $1.74 billion for the 1997-8 season. NBC and Turner Sports Inc. recently renewed their four-year contracts for U.S. rights to broadcast NBA games by agreeing to boost their payments to the league by 140%, to $2.65 billion. Buoyed by this fat new TV pact, league revenues are projected to hit $2 billion next season. "I just find it appalling that with all the money the NBA has to spread around that it's come to this," says Robert Williams, president of Burns Sports Celebrity Service Inc., a Chicago-based firm that pairs star athletes and advertisers.
But as any CEO worth his stock options can tell you, a business cannot live by revenues alone. Despite steady revenue growth, the league's operating profit peaked at $195 million in 1992-93 and has been sliding ever since. Last season, the NBA operated at a deficit for the first time since the bad old days of the early 1980s, losing $44 million.
The NBA's intramural conflict is attracting intense interest throughout the pro sports world, and for good reason. "David Stern and the NBA are still the benchmark of what a commissioner and a league can do right," says Allen Furst, managing director of D&F Group Inc., a sports-marketing firm in Washington. "If Stern can't handle this situation, it has got to worry all the leagues."
Although the NBA commissioner serves at the pleasure of team owners, Stern is a famously energetic and strong-willed sort who styles himself as basketball's "CEO." This is an expression of principle no less than ego, for Stern has always insisted that the league be run as a business in its own right. What could be more American? In practice, though, Stern often has bumped heads with owners who don't mind subsidizing money-losing teams to serve a larger corporate agenda or, worse, who look on basketball as a rich man's hobby and want to win at any cost.
It's no wonder that the players have come to think of team owners as men who plead poverty before fishing a $100 million contract out of mysteriously deep pockets. Last year, Kevin Garnett, a 21-year-old phenom, signed a $126 million, seven-year contract with the Minnesota Timberwolves, one of the league's least profitable teams. Stern took Glen Taylor, the Timberwolves' billionaire owner, to task privately but was powerless to block the deal. "David will always say to us, `You've hired me to be the boss, and I'll do it,"' says Taylor, who counts himself a Stern admirer. "But it's a different kind of CEO job, because in other instances, CEOs are the real boss."
JUST SAY NO? Stern now wants to force financial discipline on team owners by amending the league's labor contract to limit player salaries to a fixed percentage of total NBA revenues. He has suggested 48% in talks with the union but says that the number is negotiable. By the commissioner's analysis, the $1 billion in salary the players were paid last season amounted to 57.2% of total league revenues and would have risen to a ruinous 61% next year under the labor contract that the owners voided by imposing a lockout. "We simply cannot go on like this," Stern says.
If the owners feel threatened by player salary demands, "all they've got to do is say no," counters Jeffrey Kessler, a New York lawyer who represents the players association. Union officials also scoff at the league's claims of widespread financial distress, arguing that only a few franchises are actually losing money and that the league's real problem is not runaway player salaries but inefficient local management.
Stern, a lawyer by training, is known as a master labor negotiator who has done his fair share of posturing over the years. But never before has he publicly argued that the league has become so economically dysfunctional that many teams would be better off financially in the upcoming season if not a single game was played. The lockout frees teams of the obligation to pay their players--far and away management's largest operating cost. Meanwhile, the new TV contract is the first ever requiring broadcasters to make full payment even if there are no games to televise. In effect, Stern secured a strike fund of $475 million (the amount due in the contract's first year), courtesy of NBC and Turner.
On June 30, hours before the lockout went into effect, Stern imposed a league hiring freeze--the first of his tenure as commissioner. At the same time, he told the NBA's 800 employees to brace for "drastic reductions" in discretionary spending, including capital investment in a range of new ventures that Stern sees as crucial to the league's long-term revenue growth prospects.
Stern, the son of a New York deli owner, joined the NBA in 1978 and was the league's second-ranking executive when it hit bottom in 1980-81. The advent of free agency in 1976 had sent salaries spiraling upward even as attendance had dwindled to a pathetic 58% of capacity. It was Stern who saved the day by persuading the players to accept a league proposal to cap their salaries. A landmark contract signed in 1983 set a limit on the salaries teams could pay but guaranteed players that they would receive no less than 53% of revenues from the sale of tickets and domestic broadcast rights.
This management-labor pact undergirded enormous expansion. Attendance soared, handsome arenas were built, and a whole new infrastructure of regional, national, and international broadcasting was assembled. Stern set up NBA Properties Inc. to license the league logo to manufacturers of jerseys, caps, and some 70 other items. The commissioner also founded NBA Entertainment, which began as little more than a game-tape library and evolved into a mini-empire of proprietary multimedia products, including television programming, videos, books, and a Web site (NBA.com).
But by the time the league and the players union sat down to negotiate a new contract in 1995, their partnership was coming undone. To the players' annoyance, the league had been slow to cut them in on its growing merchandise and new-media businesses. Meanwhile, the salary cap system was leaking like a colander as owners and player agents exploited loopholes. Chief among them was the "Larry Bird exception." Named after the retired Boston Celtics great, it allowed teams to exceed the cap by any amount to resign a current employee. (Last year, the salary cap was set at $26.9 million, and 23 of the 29 teams exceeded it.)
Stern opened the contract bargaining with a proposal to turn the league's "soft" cap into a hard one by eliminating all loopholes other than the Bird exception. What's more, owners who made use of the Bird exception would have to pay a prohibitive "luxury tax." To Stern's delight, the union's executive director, an ex-league official named Simon Gourdine, accepted these terms and shook hands on a six-year deal. However, the players refused to ratify the agreement and even attempted to decertify their union.
In the end, it was Stern who blinked, recommending that the owners accept a new contract that preserved multiple loopholes and scuttled the luxury tax. However, he did wangle one important concession out of the union. If, after three years, the league's player payroll exceeded 51.8% of revenues, management could void the remainder of the contract. The owners exercised this option in March on a 27-2 vote, overriding the complaints of the union, which now is headed by Billy Hunter, a former federal prosecutor who is no stranger to hardball negotiating.
Even before push came to shove at the NBA bargaining table, America's love affair with pro basketball was cooling. The rising incidence of violence, notably the Latrell Sprewell coach-choking episode, has taken much of the sheen off the league's high-gloss image. And after many years of robust growth in gate receipts, average NBA attendance has leveled off in the past three years at slightly more than 17,000 a game.
The sports trading card business--once the NBA's single largest source of licensing fees--has all but imploded, and sales of all league-licensed apparel is stagnant at best. Makers of the glutted market in basketball shoes are paring back endorsement deals with NBA players. "The days of signing every single player on a team are over," says John Frascotti, vice-president for global marketing at Reebok International Ltd., which has slashed its roster of NBA endorsement contracts to 40 from 70 over the last year. On June 30, it even parted ways with Los Angeles Laker center Shaquille O'Neal, arguably the league's second-biggest star.
Like many longtime business partners of the NBA, Frascotti fears that the impending breakup of the Chicago Bulls--and the possible retirement of Jordan--will hurt the league across the board. "Core basketball fans will stay with the game," he says, "but those on the fringes, who turned on the TV to watch a dynasty, will lose interest."
Executives of NBC and Turner Sports disagree, of course, and still profess optimism that next season will come off without a hitch. While reluctant to directly criticize the players, their sympathies clearly lie with Stern. "It's easy to take shots at the leader," says Harvey W. Schiller, president of Turner Sports, dismissing union criticism of the commissioner.
BACKUP HELP. Stern concedes that the NBC and Turner contracts are likely to be the league's only major source of revenue growth in the next few years. In the long run, though, Stern sees "enormous potential" in three newly emergent revenue sources: the sale of foreign TV rights, NBA.com, and the Women's National Basketball Assn., the league's new distaff offshoot. Over the past two years alone, Stern has invested $35 million in these ventures, tapping into the league's share of income from merchandise and media sales.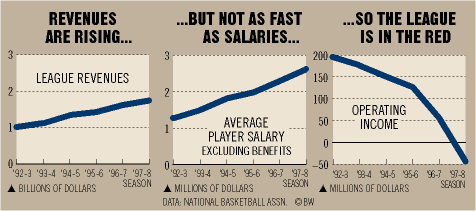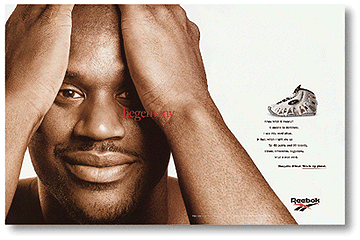 Stern does not want to be the first NBA commissioner to lose a game to a labor disruption. It would sully his own image as well as that of the game. On the other hand, he is, above all, a business builder, whose battle with the union has become personal in the sense that he sees his life's work threatened: "Either we work with the players to restore the financial model on which the league's growth and success was based or NBA basketball becomes, I'm afraid, a bad investment." That is a startling statement coming from the biggest booster pro basketball has ever had.