A Tropical Fashion Hotbed Shapes Up...As Buyers Flock To A Smart Chain
When designer Angel Sanchez sat down to watch the Miss Universe contest in May, he was startled to find not one but two semifinalists wearing his dresses. Just a week before the competition, Sanchez was still pinning, altering hemlines, and rearranging netting on an array of costumes for Miss Venezuela, Verushka Ramirez. But when the last 10 candidates--who included Ramirez--were announced, he noticed that Miss Russia, Anna Malova, also was decked out in one of his creations. "I checked afterwards and found she'd bought the dress in New York," he says. "It was a pleasant surprise."
That kind of surprise happens more and more to the 37-year-old Sanchez. With his garments hanging in Saks Fifth Avenue, London's Selfridges, and as far away as Saudi Arabia, he is one of a handful of Venezuelan designers, including Mayella Camacho and Durant y Diego, making a splash overseas. Their sights are fixed on the kind of success enjoyed by Venezuelan Carolina Herrera, who now lives in the U.S., where her garments are sported by the rich and famous. And they hope to put the country on the international haute couture map with the nation's first fashion week, which is scheduled for the fall and will feature two-a-day shows of Venezuelan designers.
"Venezuela is already known for its beautiful women--we want to be known for our fashion, too," says Elvira de Pares, head of privately run Fashion Enterprise, the organizer of the event. The principal of a Caracas design school, the Brivil fashion institute, she says that Venezuelan women have always eagerly followed the latest trends.
The fascination with fashion hit a snag in the 1980s when the currency tumbled, effectively stopping imports. Mayella Camacho was then running a boutique in Caracas that offered top labels. "When the devaluation came, I wondered what to do with the shop, so I started designing my own clothes," she says. Now, she sells about a third of her labels abroad. To overcome her concerns about Venezuela's unstable economy, she has the garments sewn in Italy, guaranteeing prompt delivery.
DARING. Such problems have not deterred Sanchez, who travels often to New York but maintains his 60-person design house in Caracas. Trained as an architect, Sanchez in 1987 began sketching designs for his mother's dressmaking business. Using his fame from Miss Venezuela as a springboard, Sanchez branched out into the U.S. market four years ago.
It wasn't easy. The first shop Sanchez approached said the designs were too "Latino." He spent the next month whipping up 17 new dresses. They were accepted, and Sanchez started developing an haute couture line he describes as featuring clean-cut silhouettes slightly more daring than the typical U.S. style. Today, his U.S. sales account for three-quarters of his $4 million annual take. He launched a bridal line in the U.S. this year, with prices up to $6,000, and plans to follow that with a less expensive pret-a-porter line. If it's a hit, even Paris and Milan may start paying attention to Caracas.
With top-flight chain stores few and far between in Venezuela, buying off-the-rack fashion traditionally has meant a trip to Miami. "We have changed that," says Carlos Sultan, vice-president of the Graffiti chain. Since opening its first store in 1991, Graffiti has expanded to 180 franchise outlets, plus 80 shoe stores. Sultan plans to move into household goods and more than double the number of shoe shops. He says sales this year could reach $250 million, up from $150 million last year.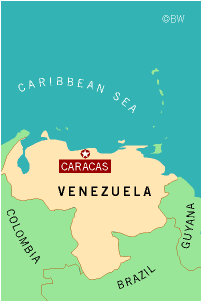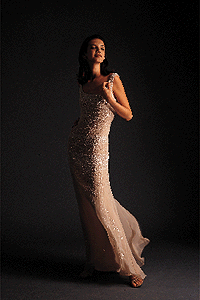 Graffiti stores feature clothing from U.S. retail outlets such as Banana Republic, The Limited, and Victoria's Secret, all at 30% to 40% discounts. The cut-rate Calvin Klein jeans help lure customers whom Sultan says buy an average of 10 or 15 pairs of jeans a year. None of the garments are seconds: With year-round sunshine in Venezuela, Graffiti buys leftover summer fashions from the U.S. and also snaps up at a discount clothing ordered in Asia and then canceled. Once aimed mainly at poorer Venezuelans, Graffiti is now targeting middle-class working women but has no plans to shift from its low-price strategy. Says Sultan: "I don't know if Venezuelans are buying less from Miami, but they are certainly buying more from us."
Before it's here, it's on the Bloomberg Terminal.
LEARN MORE